Appoint Competent People To Serve In Government — Dr Alidu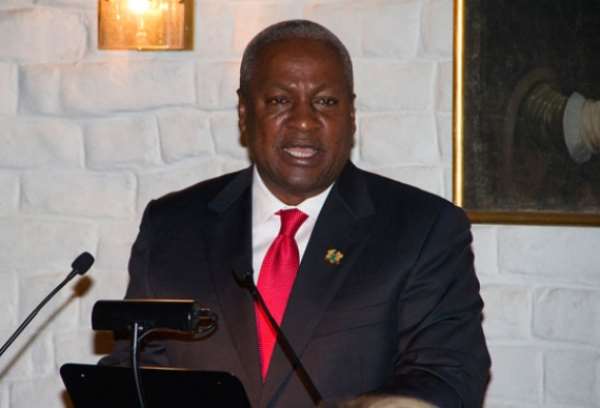 President John Mahama
A Senior lecturer at the Political Science Department, University of Ghana (UG), Dr Seidu Alidu, has urged politicians to appoint competent people to serve in government irrespective of their political backgrounds, beliefs and religion, to promote an all-inclusive government.
That, he said, would eliminate the "winner takes all" system which had created major setbacks in the development of the country, and ease the acrimony in our body politic and the political polarisation in the country.
Redistribution
Dr Alidu was speaking at a forum on the topic: "Winner Takes All and Tolerance in Ghana: The Experience of the Northern Region" in Tamale, the Regional capital.
The forum was organised by the Northern Sector on Awareness Centre (NORSAAC) in partnership with IBIS, both non governmental organisations (NGOs). It was aimed at consolidating democratic and accountable governance in the country and also to ensure that people demanded their democratic rights to equitable economic redistribution.
Dr Alidu stated that it was time the country and political parties adopted the all-inclusive system of government where a sitting president gave equal opportunities to people who had the expertise to run the affairs of the country or occupy high seats of government.
Majoritarian
"The winner takes all or majoritarian system can be stopped if we learn how to tolerate one another and look beyond our political lenses in the context of [having] the country at heart," he said.
Mr Alhassan Mohammed Awal, the Executive Director of NORSAAC, bemoaned the discontinuation of laudable programmes and policies started by predecessor governments in the country, which has contributed greatly to the numerous development challenges faced by the nation.
He advised the youth to influence the decision making of the country by exercising their political rights and making the right choices.
Madam Safia Musah, who represented the country director of Ibis, said Ibis had the country at heart and was working closely to contribute to shaping its governance system since it had no mandate as an organisation to make rules.
State funding of political parties
Mr Mohammed Abdul Kudus and Mr Rashid Tanko Computer, communication directors of the opposition New Patriotic Party (NPP) and the ruling National Democratic Congress (NDC) respectively, said it was time the state came out with a policy that funded political parties' campaigns so that when elected into office, they would be obliged to appoint competent people to serve the nation irrespective of their political backgrounds.
They called for constructive criticisms that would help build the nation instead of insults and unsubstantiated allegations.
Major Abubakari Sulemana (retd), the regent of Tolon, who chaired the occasion, commended the two NGOs for organising such an educative programme and urged political parties to send the message across to their supporters to be tolerant of each other's views so as to enhance political discourse and multiparty democracy in the country.
Among the invited guests were representatives of traditional rulers, religious bodies and members of the various political parties in the region.