Samsung Launches Galaxy Note 4 In Ghana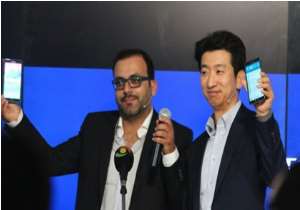 Samsung Electronics has announced its newest device, Samsung Galaxy Note 4 onto the Ghanaian market at a colorful event at the Accra Mall on November 1, 2014.
Powerful, sleek and packed with amazing features, the latest evolution in the Note series meets the changing demands of the modern consumer.
Galaxy Note 4 comes as big – screen flagship smartphone for Samsung, even as a company executive announced the phone will make for selfies with even more people through its front and back cameras.
The Note 4 has a Quad HD Super AMOLED display that will improve resolution and quality, though the actual screen size remains the same.
The camera's been beefed up to 16 megapixels. There's a multi – window to take advantage of the screen's large size and an S – pen to write.
The multi – window is a handy feature that at first feels a bit counter – intuitive. Holding the back button brings a task bar with some basic apps like the camera and Facebook.
Dragging multiple of the icons onto the main screen, my phone splits into the multi – window to allow for easy multi – tasking.
The camera can be layered even on top of that as a smaller window if you need to see for a quick photo without losing where you are in a task.
It also has a Fingerprint Scanner for users' data security.
Samsung has also partnered with several providers in Ghana to ensure that the Note 4 comes in hand a complete lifestyle tool including free Wi-Fi data, online shopping options among others. The Note 4 is currently available in Ghana in the Frosted White and Charcoal Black variants.