The Launch Of National Sanitation Day: Not A Panacea For Clean & Healthy Environments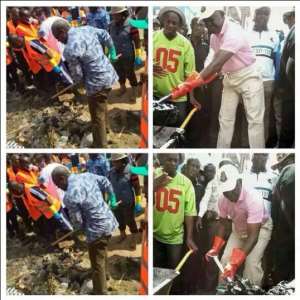 A few days ago, the Ministry of Local Government and Rural Development, initiated and launched a National Sanitation Day (NSD) campaign to be observed every first Saturday of each month across the country. The launch followed a United Nation's (UN) Report which ranked Ghana among the 10 worst countries in the world in respect of sanitation.
It has been observed that, about 70% of the out patients in the hospitals in Ghana were there because of lack of proper sanitation, which causes diarrhea and cholera. Malaria has also been a consequence of stagnant waters and filthy environments which served as breeding grounds for mosquitoes. The NSD initiative therefore seeks to encourage the public to take greater responsibility for improving their environment and ensure that laws promoting good sanitation are respected. On the first of its kind, Saturday November 1st, 2014, it was not observed in many districts across the country. Was it that the MMDCEs were not aware or they deliberately failed to organize the communal clean-up exercise?
Already, several people have supported the move. Notably, the Paramount Chief of the Akyem Abuakwa Traditional Area, Osagyefo Amoatia Ofori Panin cautioned Ghanaians to be law abiding citizens, adding, 'the different between the Homo sapiens and animals is the higher gumption of ours, our ability to think, but sometimes we do things that makes him ask if we use it' (the mind). On his part, the Managing Director for the Graphic Communication Group Ltd (GCGL), Mr. Ken Ashigbey, said "ensuring good sanitation is not the sole responsibility of politicians and the judiciary but that of every leader, including traditional and religious leaders." Though the idea by the Ministry is laudable, there are several concerns to be raised with regards to solving the sanitation problem in Ghana.
Frankly speaking, the NSD is not a panacea of tackling the sanitation menace in Ghana. The problem has to be tackled holistically across all angles. On personal opinion, five (5) key steps need to be taken. Firstly, the NSD should be made a statutory law, not just a call. Ghanaians have enjoyed too much impunity that 'we' would blatantly refuse to obey this very important call. Gone at the days when sanitation guards popularly called 'Samasama' were very active in arresting and prosecuting sanitation culprits, is no longer seen. It's time to re-invent and empower such taskforce which should not just be made of ordinary citizens, but also include the police and military service as well as traditional authorities. If this communal day for clean-up exercise is backed by a law and enforce by the taskforce across every District, City, or Town, indeed this country would be a clean place to live.
Secondly, one major bold initiative that has to taken as a country is to ban the production and usage of plastic bags. It is true that a ban on plastics would create serious economic problems including loss of jobs and income for both individuals and the country as a lot of plastic and sachet water producing companies employ many youth. These companies and their workforce also pay tax and contribute to national income. However, comparatively, the amounts of money spend on managing plastic wastes far more outweighs the amount of revenue generated. Apart from the direct expenditure by various MMDAs in collecting plastic waste, huge sums of money is spent on dealing with the consequences of bad sanitation such as cholera, malaria, and so on. Observing from afar, the country would save a lot of money from waste collection if there is a total ban on plastics especially sachet water, plastic handbags and 'plastic takeaway' bags. Alternatives such as paper packaging and bottling systems should be introduced. If a hard decision has to be made to ensure proper sanitation, then it would be an absolute ban on plastics production and usage especially sachet and plastic bags.
Thirdly, there should be a nationwide distribution of dustbins and waste containers. In fact, many street walkers find it difficult to dispose wastes and end up dumping them on the environment. I have on several occasions kept plastic sachet into my pockets due to unavailability of dustbins on roadsides. To avert this situation, a nationwide distribution of dustbins to all districts to be placed along the streets in every 500 meters; and every house must be given one. Again, every business place or office, whether small or big must has a dustbin. To rescue the streets from waste spillage, a frequent and regular carriage system to empty the bins and waste containers needs to be in place. When all these are done, an effective field monitoring by the sanitation taskforce to arrest and prosecute perpetrators who litter or dispose waste haphazardly.
Furthermore, Traditional Authorities and MMDCE's should be made accountable in terms of sanitation. Traditional leaders are assumed to be custodians of land and natural environment and so it's their absolute responsibility to protect the land from filth. Chiefs and land owners who fail to ensure the areas of jurisdictions are clean should be destooled or diskinned, otherwise they could be made to face law suit. In the past, traditional authorities were cautious of the environment and so have taboos and customs to protect the environment. The modern traditional rulers are however gullible to money and so sells out lands discriminatorily with less regard to environmental sanity and such chiefs must be punished according to modern law. On the part of the MMDCEs, it's their core mandate to ensure clean environment especially at market and public places. What has been happening over the years is financial misappropriation and corruption. Monies that are collected as tax and rates are being embezzled and nothing is being done. In actual fact, the MMDCEs should be shown the red card if the district and its environs are littered with filth and garbage. If possible, the criteria for qualifying for the District Assembly's Common Fund and District Development Facility (DDF) through the annual Functional and Organisational Assessment Tool (FOAT) should include good sanitation. Alternatively, MMDCEs should be prosecuted for poor waste management.
The topmost issue of curbing sanitation is the structure of our economy. Believe me or not, Ghana is practicing a consumption economy rather than a producing economy. On my layman's point of view, until we are able to shift away from an import economy to an export one, our sanitation efforts would be a mirage. Frankly, the larger percentage of our goods and services are imported products. The most disturbing being the importation of wastes popularly known as "home use" or "second hand" products. Ironically, home use or second hand goods are tagged as quality compare to brand new ones. The result of our ignorance of taking 'waste' such as home use products as good quality is visible in our street, gutters and water bodies, making us doll out millions of Ghana cedi for waste collection, not forgetting malaria, cholera and diarrhea which are killing us on daily basis. The country must invest and produce more and the excess could be exported. We have relied on other people's "wastes" for quite a long period and until we change our minds and restructure from a consuming economy to an investment driven economy, the problem of sanitation would continue to be a thorn in our flesh.
I hope the government is listening and the citizens are all ears. Although, I subscribe to the initiative taken by the Ministry of Local Government and Rural Development, we wait to see if the NSD would stand the test of time. Ghanaians do many things with impunity due to our love and forgiveness for each other's wrong doings and so it will take serious mental and legal enforce including the above punitive measures to deal with the sanitation menace. Otherwise, the NSD would be a mirage.
Abu Ibrahim Azebre,
Project Coordinator,
Development Fortress,
Twifo Praso
[email protected]
0240393109