Voter Exhibition Poorly Patronised - CODEO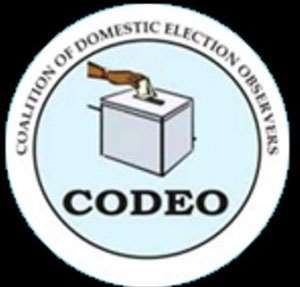 Franklin Oduro
Coalition Of Domestic Election Observers (CODEO) says the just ended Voter register exhibition exercise supervised by the electoral Commission was poorly patronised throughout the country.
CODEO also complained bitterly about the relatively high rate of voters losing or misplacing their voter identity cards.
'CODEO is concerned of reports from its observers of a very low turnout at all the centres they visited; and as well as reports of a relatively high rate of voters who have lost or misplaced their voter identity cards,' Dr Franklin
Oduro, CODEO Project Manager & Acting Coordinator, said in a statement on Thursday.
'For example, at Praso Methodist Primary in the Twifo Atti Morkwa district ,only 48 out of a total of 1,808 registered voters came to verify their details, whilst at Zomayi in the Keta Constituency, only 24 out of 951 registered voters showed up.
In some instances, this resulted in cases of officials either taking a longer break against the normal time given or even closing from duty before the stipulated time,' CODEO said.
The coalition said over 300 of its observers deployed reported that the political party agents were 'largely' absent at the centres CODEO visited; and where they were present, only two political agents—the NPP and the
NDC—were present, adding that the exhibition exercise was peaceful.
'To date, there have been no reports of violence, conflict, harassment or disruption of the process,' the statement said.
The coalition said multiple and double registration, especially of the youth, was observed at several centres, citing Kumasi Polytechnic Campus in Subin Constituency, where a lady came to check on her bio-data and
unfortunately her name appeared on the double registration register, as an example. It added, 'upon further questioning, she admitted to registering twice.'
'At some centres, such as the Presby church in the Bekwai Municipality, some registrants were still allowed to check their names and even the names of their friends and relatives who were not present; whilst at other centres the EC officials insisted on the ID cards and were either refused or asked to fill in new forms; and as well directed to see the district director of the EC at his office.'
'On the contrary, in other instances, some voters came with their voter identity cards and their names were not found in the register—neither
in the multiple registration list nor exclusion list. They were then made to fill in an inclusion form.'
CODEO urged the EC to intensify its publicity to increase awareness and arouse public interest and participation, adding, 'the EC should increase its public education about the requirements and proper procedures to be followed to verify registrant details.'
The coalition also encouraged the media, the political parties and community based civil society groups to support public exercises of the EC by helping to create public awareness and raise citizens' interest, adding, 'The EC should take key interest in correcting mistakes identified so far such as names that have been wrongfully spelt, wrong polling station
numbers, and registrants whose names are not found in the registers even though they provided their ID cards.'
CODEO also asked the EC to communicate publicly and clearly the next line of actions on those who have been captured to have engaged in multiple registration and those who could not find their names in the register.
'CODEO commends all stakeholders for ensuring a peaceful exercise so far. However, CODEO is concerned that an important exercise such as this, which will enable the compilation of a credible voter roll for future  elections, is not taken seriously by citizens and especially by political parties,' the statement said.
By William Yaw Owusu