Minister Endorses Joy Dadi Bitters
Officials of Joy Bitters in a post with the minister after the meeting.
The Minister of Tourism, Culture and Creative Arts, Elizabeth Ofosu-Adjare, has overwhelmingly recognized the hard work of Joy Industry, producers of Joy Dadi Bitters – one of the locally produced alcoholic beverages.
She has therefore pledged the ministry's unflinching support for the company to ensure that its products become international brands.
According to her, the tourism ministry would introduce Joy Dadi Bitters at the forthcoming World Travel Market – the largest global trade festival scheduled to be held in London in November – as one of the best indigenous brands currently on the market in Ghana.
The minister also pledged to advertise Joy Bitters at the next National Festival of Arts and Culture (NAFAC) slated for November 29, 2014 in Sunyani in the Brong-Ahafo Region.
She made the endorsement when officials of the company called on her at the ministry to donate some of Joy Industry's products – Joy Medication Soap, Joy Bitters among others – to the ministry.
The visit was also intended to see how best the tourism ministry and the company could work together in promoting made-in-Ghana goods.
'The reason why I am going to introduce your product in London is to tell the world that you are doing well on the domestic market and that you are helping to boost the economy of Ghana through job creation,' Ms Ofosu-Adjare pointed out.
'Joy Industry has good products and has continued to respect its corporate social responsibility over the years. And I feel the best I can do as a minister to encourage them is to advertise their products, particularly their bitters to the world,' she told Business Guide, on the sidelines of their brief meeting.
Chief Administrator of Joy Industry, Samuel Adongo, who addressed the sector minister, stressed how the company had over the years created employment for a significant number of Ghanaian youth, particularly those in the Eastern Region.
He told the minister that it was helping to boost development activities at Akwadum in the Eastern Region, where it operates.
He disclosed that aside job creation for the youth, Joy Industry had since the 10 years of its existence, been supporting cultural events and festivals like Odwira and Ohum.
'We have over the years supported the KUMAWOOD Awards, Odwira Festivals, Ohum Festivals and a host of TV series and sporting activities. We have also supported deprived communities by constructing schools for them,' he revealed.
Joy Industry was established 10 years ago at Suhum and later migrated to Koforidua, the Eastern Regional capital; and it is currently operating at Akwadum, near Koforidua. It began with the production of items like medicated soaps and ointments, among others.
It was until a-year-and-a-half ago that it started the production of Joy Bitters and the product is receiving huge patronage within the West African sub-region.
BY Melvin Tarlue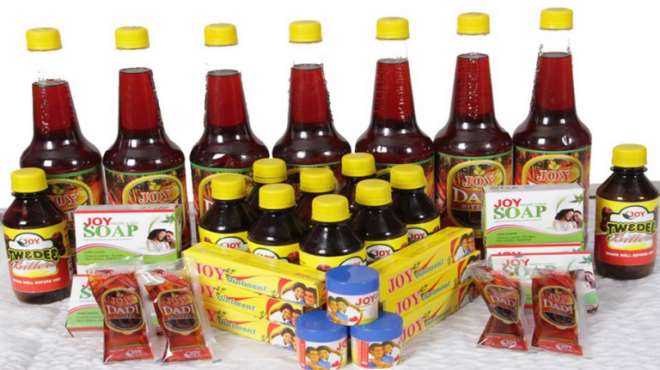 2014-10-31 143319