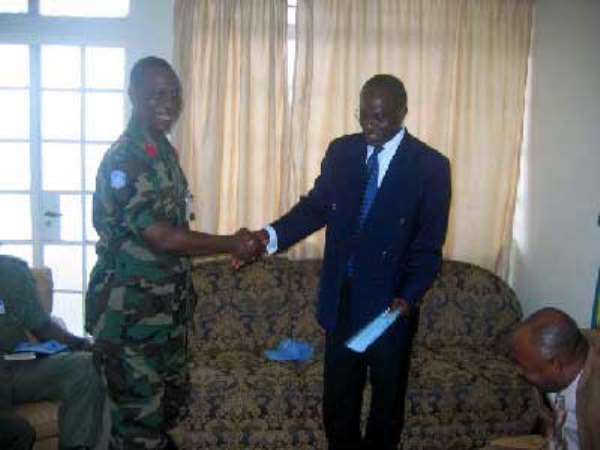 Ghanaian troops serving with the United Nations Mission in Sierra Leone(Ghanbatt 9)have donated $4800 to the DOLLAR A MONTH FOR GHANA FUND, an initiative of the Ghana High Commission in Freetown.
The Fund which is in its third year aims at mobilizing the financial support of Ghanaians in Sierra Leone for philanthropic and social causes in Ghana and Sierra Leone.
Making the presentation at a brief ceremony last Friday, June 25, 2004, at the High Commission in Freeetown, Colonel Kofi Yeguo, Contingent Commander of Ghanaian troops in Sierra Leone, said that the troops through their contribution wished to associate themselves with the noble aims of the Fund.
Ghana's High Commissioner to Sierra Leone, H.E. Kabral Blay-Amihere thanked the soldiers for their donation and also used the occasion to thank previous contingents of the Ghana Armed Forces to Sierra Leone for making the Fund a success.
He announced that the Fund will on July 26, 2004 make presentations to a number of institutions in Ghana under proceeds from the second year of the Fund.
Present at the ceremony were Lt. Colonel Sam Y. Akorful, Commanding Officer of Ghanbatt 9, Mr. Bartels Kodwo, Minister, Mr. E-B. Asare Asieudu, Head of Chancery, Mr. Salifu Alhassan, a procurement consultant, Mr. Joe Oshiapem, Ghana Airways Manager, and Mr. Jerome Tabiri of the United Nations Office for Project Services as well as a cross-section of the Ghanaian community.
*caption for photo-H.E. Blay-Amihere receiving the donation of Ghanbatt 9 from Colonel Yeguo