Ex-Factory Price Inflation Declines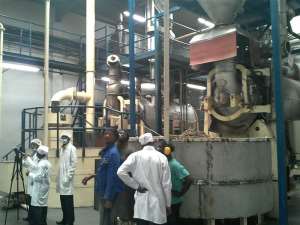 Dr. Philomina Nyarko, Government Statiscian
The Utilities sub-sector recorded the highest year-on-year producer
inflation of 76.1 percent in the latest report compiled by the Ghana Statistical Service (GSS) for September 2014.
This represented a 0.3 percentage point increase over the August 2014 rate.
Manufacturing, which constitutes more than two-thirds of total industry, also decreased by 2.3 percentage points to record 39.6 percent.
Anthony Amuzu, Head of Survey & Census at GSS, who presented the report yesterday in Accra to journalists, said even though month on- month change in producer price between August 2014 and September 2014 was 1.2 percent, the index increased by 46.7 percent between September 2013 and September 2014 (year on year), representing a 1.6 percentage point decrease in producer inflation relative to the rate recorded in August 2014 (48.3 percent).
Producer Price Index (PPI) measures the average change over time in the prices received by domestic producers for the production of their goods and services.
He stated that inflation in the petroleum sub-sector fluctuated between September 2014 and December 2013 but started rising in April 2014 to record 48.2 percent in May 2014.
In June, 2014, however the rate declined to 44.7 percent as a result of
the base drift effect from the increase in the prices of petroleum products
in June 2013.
In July 2014, the rate declined to 77.3 percent as a result of increases in petroleum prices.
The rate declined in August and September 2014 to record 68.6 percent and 59.5 percent respectively due to the base drift effect.
Also, in January 2013, the producer price inflation in the mining and quarrying subsector decreased slightly by -0.1 percentage point over the August 2014 rate of 50.7 percent to record 50.6 percent in September 2014.
For September 2014, four out of the sixteen major groups in the manufacturing sub-sector recorded inflation rates higher than the sector
average of 39.6 percent.
By Cephas Larbi, [email protected]