FONAA USA: Nana Akufo-Addo's $1 Dollar Campaign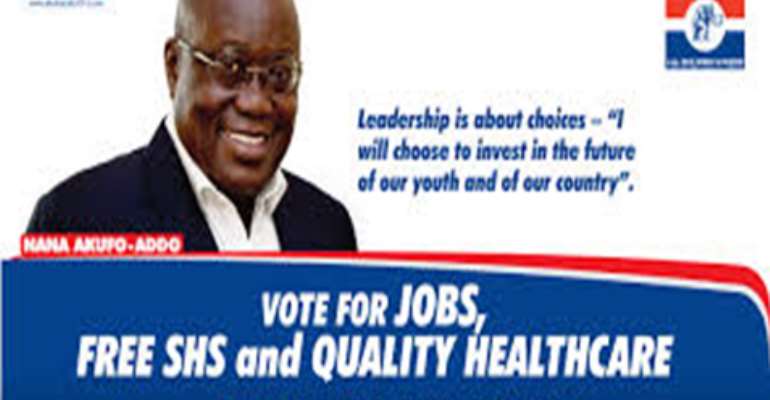 Defeating an opponent in a battle democratically is one of the core principles of the NPP. Nana Akufo-Addo's success of working diligently, conquering all challenges, and delivering immensely, merely demonstrates his pragmatist leadership of making Ghana a better place to invest, and reside. Subsequently, Nana Akufo-Addo's enormous win has certainly and cogently alerted a signal to the world.
The deterioration of Ghana socio-economy has apparently resulted in a dire conundrum troubling Ghanaians. It is our moral, and value to support a competent candidate who is a natural born leader, willing to relate, establish and implement efficient educational organizational structures, infrastructures, and pivotal policies for the advancement of Mother Ghana. The battle has commenced, and we must demonstrate our commitment, and the zeal to assist Nana Akufo-Addo to win the presidential election in 2016.
It is vital to exhibit our passion and commitment, to ensure that Nana Akufo-Addo attains an overwhelming winning result in the upcoming 2016 presidential election of Ghana. Therefore, FONAA, USA is launching a $1 dollar campaign to render efficiency of quality grassroots services at all various angles to leverage Nana Akuffo-Addo's campaign to victory.
If we sincerely and truly believe in the course of making Ghana's economy perpetually stable, with equal opportunities for the poor and the rich, then let us contribute/donate to assist Nana Addo's campaign to become the President of mother Ghana, transform and make our beloved nation the best place to live on planet earth.
Please click the link to FONAA official website for your donation:WWW.FONAA.ORG
Thank you, and God bless all.