Starbow saga: GCAA officials face sanctions if…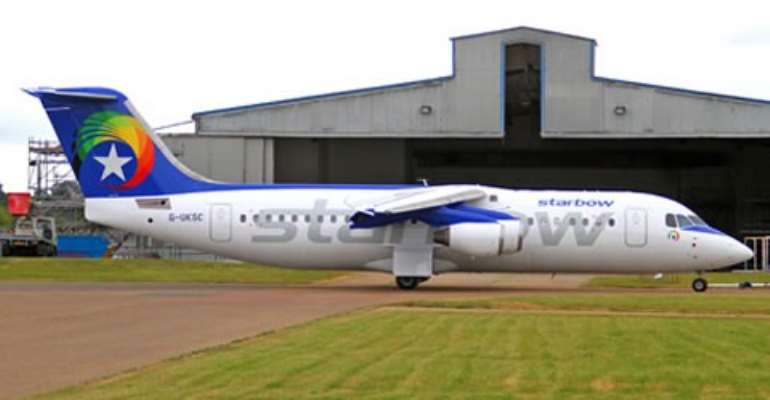 Officials of Ghana Civil Aviation Authority (GCAA) are likely to be sanctioned if they are found culpable in Tuesday's emergency landing by a Takoradi-bound Starbow aircraft because of technical failure.
The Authority has the responsibility to ensure the safety of passengers as well as air-worthiness of aircrafts.
Deputy Transport Minister, Joyce Bawa Mogtari told Francis Abban on Joy FM's Top Story: "We will investigate the current supervisors to ensure that they are undertaking their obligations as is expected of them…
"In the event that we find that someone has been irresponsible and negligent on duty I am sure that management and board will have ways of dealing with this, and of course the ministry will be there to supervise so that things are done properly."
Investigations into the incident are expected to be completed by next week Tuesday, she stated.
Two people were injured during evacuation of passengers aboard the aircraft at the Kotoka International Airport (KIA) in Accra.
The Transport Ministry today summoned the Aviation officials to explain the cause of the incident. It was at this meeting that a decision was reached to ground two out of the three Starbow aircrafts until all necessary safety checks are completed.
Deputy Transport Minister Joyce Bawa Mogtari in commending the pilot for doing a good job in handling the emergency landing, stressed that Ghana has one of the best safety records in the sub region which should be maintained.
This is not the first time an aircraft has been involved in such an incident, she noted, adding that "having two incidents within a year is one too many".
"First and foremost we have advised the Ghana Civil Aviation Authority to go back and undertake very serious checks on the engines of these aircraft. Secondly, we have advised them to improve on their inspection," the Deputy Transport Minister emphasized.
Air Commodore Kwame Ponpuni, a retired pilot and former Managing Director of Ghana Airways questioned the interest of aviation authorities in investigating such incidents.
He therefore challenged the Ghana Civil Aviation Authority to be up and doing in ensuring safety of Ghana's air space. Story by Ghana | Myjoyonline.com| Isaac Essel | [email protected] | twitter @isaacessel