Pension controversy: Gov't on the path of escalation- Kweku Baako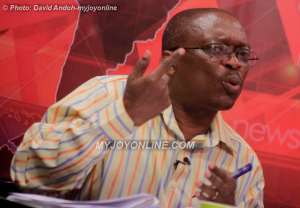 Editor in chief of the News Crusading Guide newspaper Kweku Baako Jnr is convinced government's decision to go to court in respect of the tier two pension controversy would rather worsen an already precarious situation.
"The court is a point of escalation. We ought to move away from confrontation," Malik Baako said on Joy FM's news analysis programme Newsfile.
Government has sued 12 labour unions who have declared an indefinite strike action in protest over what they say is government's poor handling of the tier two pension scheme.
The government wants a pronouncement from the court on whether it is the employer to these workers and whether it has the right to select a fund manager to manage the tier two pension scheme.
The workers are demanding to manage their own funds- something government is unwilling to do.
Contributing to the matter on Newsfile, Kweku Baako Jnr attributed the impasse to long years of mutual suspicion between government and labour.
He would rather the government appeals to the emotions and "human elements" of the workers than proceeding to court.
"We are on the wrong path," he noted.
The news paper Editor however blamed government for the sad state of events.
He wondered what government has been doing from 2009 when President John Mills set in motion the implementation of the new Pensions Act.
Quoting a piece from IMANI Ghana, Kweku Baako Jnr said he strongly agrees to the calls for the Board members of the National Pensions Regulatory Commission to resign.
But a lawyer who was also on the show believes the workers' strike is illegal.
Mr Charles Bawa criticised what he said was the workers' penchant to go on strike at the least misunderstanding with government.
He said under the country's laws, strikes must be embarked upon "sparingly".
Under the circumstances, he said the workers had every right to proceed to the tripartite committee, Labour Commission or worse still to court to have their grievances addressed instead of going to court without due notice to government.
He explained that before a union goes on strike it must have exhausted all available options including negotiations, mediation, arbitration and if all that fails then it could go strike after notifying the government and the Labour Commission.
In this case, Bawa doubted if the workers had gone beyond negotiations to have the matter addressed.
"The strike is just unfortunate," he pointed out.