Afrobarometer report deserves no attention - Kwesi Pratt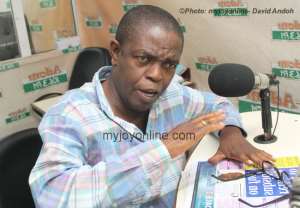 Reports from the 2014 Afrobarometer reports have generated a lot of controversy after it was released but Kwesi Pratt says the report does not deserve the attention it is being given.
He said several other reports by the same entity over the years have been questionable and therefore sees no reason why the current report should be given the kind of attention it is enjoying among the public and the media as a whole.
Speaking on Radio Gold's news analysis programme 'Alhaji Alhaji', the managing news editor said none of the findings of the think tank seem to reflect the real issues happening in the country and that the methods used in arriving at the findings in the report were questionable.
The Afrobarometer report revealed that 76 percent of Ghanaians blame government for failing to improve their living standards.
The report which sampled views from about 2,400 citizens about their economic and living conditions  was conducted from May to June this year at  a time when there was a general consensus that the country's economy was challenged.
Majority of Ghanaians according to the report say their current economic conditions have worsened compared to the same period a year ago.
But Mr Pratt says all that has been captured in the report is nothing new because most people, if not all, are fully aware of the economic challenges the country is grappling with but are seeking solutions and not reports that confirm what they already know.
He said economic think tanks like the Centre for Democratic Development (CDD) – who wrote the report, and similar organisations should make conscious effort at making findings which will benefit the ordinary Ghanaian and not always seek their own interest.
The current economic problems facing the country he says, requires solutions which will liberate the ordinary person from the current hardships they find themselves in.
Mr Pratt said government should be largely blamed because it has encouraged the emergence of the think tanks because it has danced to their tunes and this encourages them to come out with "these reckless findings which is responsible for the pain Ghanaians are experiencing".
According to him, instead of government wasting its time on the report, it should rather address the real issues facing the ordinary person who deserves to have access to portable water and three square meals a day.