WHO eyes mass Ebola vaccines by mid-2015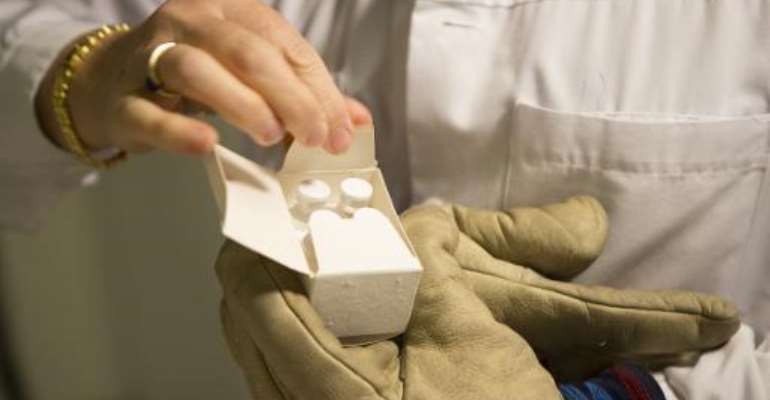 Geneva (AFP) - Hundreds of thousands of Ebola vaccine doses could be rolled out to west Africa by the middle of 2015, the World Health Organization said Friday, after new cases of the virus were reported in New York and Mali.
"All is being put in place to start efficacy tests in the affected countries as early as December," WHO assistant director general Marie-Paule Kieny said.
Several hundred thousand doses could be available in the "first half" of 2015, he said.
Kieny's comments came after closed-door talks on Thursday to try to find a vaccine to beat a disease that has ravaged Guinea, Liberia and Sierra Leone and killed almost 4,900 people.
Fears the haemorrhagic virus could spread further were stoked with new confirmed cases in New York City and in Mali, which became the sixth African nation to be affected.
"A vaccine is not the magic bullet, but when ready, it may be a good part of the effort to turn the tide of the epidemic," Kieny said.
- 'Real-world' tests -
Experts are pinning their hopes on the experimental vaccine rVSV, with doses arriving in Geneva for a new round of trials, and ChAd3, made by Britain's GlaxoSmithKline.
Five other potential vaccines are in the pipeline, Kieny said.
Whichever proves its mettle in trials, WHO hopes to send huge numbers of doses to Africa for "real-world" tests.
"The pharmaceutical companies developing all these vaccines are committing to ramping up the production capacity to millions of doses to be available in 2015," said Kieny.
There is currently no licensed cure for Ebola, which is transmitted through close contact with the bodily fluids of an infected person or someone who has died from the disease.
New York on Thursday confirmed the city's first case of Ebola, with a doctor testing positive after returning from treating patients in Guinea, the epicentre of the world's worst outbreak of the disease.
Craig Spencer, 33, was placed in isolation at Manhattan's Bellevue Hospital Center.
But there was better news when a nurse in Texas who became the first US healthcare worker to contract Ebola was declared free of the virus.
Nina Pham became infected while caring for a Liberian man who died of the disease.
In Mali, health authorities said a two-year-old girl who travelled to neighbouring Guinea with her grandmother had tested positive for the virus.
The toddler's condition "is improving thanks to early intervention", Mali's Health Minister Ousmane Kone said Friday.
A local official said the girl's fever had subsided and her bleeding had stopped.
The WHO said the Malian authorities were tracing everyone who had contact with the girl and her grandmother, with 43 people placed under observation.
- New York fears -
Health workers in Texas and Spain caught Ebola from patients originally infected in west Africa.
But New York mayor Bill de Blasio insisted the city was fully prepared to stop the disease in its tracks as authorities tried to prevent panic among the city's 8.4 million residents.
"We want to state at the outset, (this) is no reason for New Yorkers to be alarmed. Ebola is an extremely hard disease to contract," he said.
New York Governor Andrew Cuomo said city officials had already identified four people believed to have been in contact with the doctor, who worked for the charity Doctors Without Borders, also known by its French acronym MSF.
He said he did not expect a repeat of the situation in Dallas, where hospital staff appeared to have been caught offguard by the arrival of the disease leading to the infection of Nina Pham.
"Dallas was caught before they could really prepare. We had the advantage of learning from their experience," Cuomo said.
- 'Race against time' -
In Ivory Coast, up until now Ebola-free, the hunt was on for a health worker from Guinea who may have fled across the border after taking fright when a patient he treated died.
Meanwhile, EU leaders agreed to boost aid to combat Ebola in west Africa to one billion euros ($1.3 billion).
"We're in a race against time on Ebola and we must address both the emergency situation and at the same time have a long term response," Commission head Jose Manuel Barroso said Thursday.
African countries have also pledged to send more than 1,000 health workers to the most severely-hit countries.
The African Union said Friday Ethiopia was sending 200 doctors, nurses, field epidemiologists, environmental health personnel and public health specialists.
With almost 10,000 people now infected, AU chief Nkosazana Dlamini-Zuma said the regional bloc was responding to an urgent need for reinforcements.
A lack of skilled medical staff has been one of the major obstacles in the battle against Ebola.
Health workers have paid a heavy price in the fight against the epidemic, with 244 deaths out of 443 cases.
Microsoft co-founder and philanthropist Paul Allen -- who has already dipped into his vast personal fortune to help the WHO deal with the crisis -- said Thursday he was upping his donation to $100 million.