UPSA Freshmen Told To Adopt Serious Approach To Studies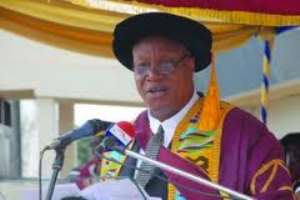 Vice Chancellor of the University of Professional Studies, Accra (UPSA), Prof. Joshua Alabi has advised fresh students of the university to ensure their parents' efforts to support their education is not wasted.
He urged them to adopt very serious approach towards their studies to reciprocate efforts made by their parents to pursue higher education.
"You have come here mainly to improve yourselves academically. It therefore follows that you should adopt a very serious approach towards your studies," Prof. Alabi told the 3,267 matriculants who qualified for admission into the university for the 2014/2015 academic year.
A total of 5,026 students applied for the various disciplines. However, only 3,267 were admitted to pursue courses in Diploma, Undergraduate, Professional and Masters.
Out of the number admitted, 1,215 were females representing 37.19 per cent while their male counterparts were 2,052 also representing 62.91 per cent.
The vice chancellor reminded the students to "always remember that your parents have toiled to get you this far and that the only way you could reciprocate their efforts is to be successful here [UPSA]", admonishing them to be obedient and respectful to their lecturers.
Touching on personal mannerisms, Prof. Alabi stressed the need for the female students especially, to dress decently and professionally at all times.
This way, they would even be morally justified for the job market.
"You make a statement by the way you dress. Someone who dresses decently sends a positive signal to people and thereby, gives a good impression of himself," Prof. Alabi challenged the students.