Improper Agrochemical Storage Killing More Farmers In Rural Ghana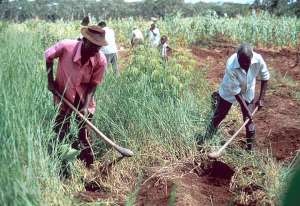 Improper storage of agro-chemicals is said to be killing farmers slowly because they keep the substances in their bedrooms and kitchen.
Research indicates averagely ten farmers die annually of health conditions caused by food contaminated with harmful chemicals.
Many rural farmers admit the practice which they say is the only way to protect their investment, with little or no idea about the health complications.
Local buying company, Kuapa Cocoa, is taking steps to protect farmers, through public education and distribution of chemical containers.
Over one thousand members of ten farming societies in Akontomra and Dadieso Districts of the Western Region have so far benefited.
Executive Secretary of Kuapa Cocoa, Apau Mensah Abrampa,says the initiative is meant to put a premium on the health of farmers.
"The health of the farmer is as important to us as it is to them", Mr. Abrampa believes attention should not only be directed towards their output (the farm produce).
Often, not-for-profit making organizationswho garner their efforts at providing services to better farming practices to increase yield of rural farmers skew to one side.
They train farmers on new and improved ways of applying fertilizers, chemicals and other proper farming practicesyearly with little done about the health of these farmers.
"I never knew sleeping with these chemicals can be harmful. For us here, it normal because we have to keep them safe else thieves will steal them", one of the farmers revealed.
The chemical containers given them are expected to substitute the current practice and relief farmers from dying prematurely.