Striking Workers Threaten Court Action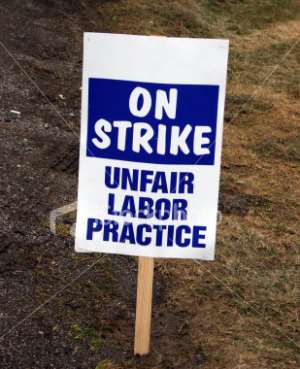 Franklin Cudjoe
Striking civil and public service workers are considering the option of going to court to institute legal action against the government over the controversy surrounding their second tier pension fund.
Leadership of the Forum for Public Sector Registered Pension Schemes, made up of various professional groups and government workers, including the Ghana Registered Nurses Association (GRNA), Ghana Medical Association (GMA), Ghana National Association of Teachers (GNAT), National Association of Graduate Teachers (NAGRAT) and a host of other interest groups, on Tuesday announced an indefinite strike to get government to release funds for the second tier pension scheme for their preferred fund managers.
Yesterday's strike action was not so effective except in public schools and hospitals where teachers and doctors as well as other health workers observed it sparingly, with anticipation that it would be more effective today.
However, Employment and Labour Relations Minister, Haruna Iddrisu, has expressed disappointment at the indefinite strike declared by the workers.
He said the strike was illegal, especially when the government and the workers were still dialoguing.
Twelve public sector groups are rejecting government's imposition of Pension Alliance Trust, believed to be owned by people close to the NDC administration. The workers' groups said they had selected their own fund managers according to the new pension law.
About GH¢447 million of public sector workers' contributions of the 2nd Tier Pension has been locked up at the Bank of Ghana for the last four years with no serious investment, except government borrowing at less than treasury bill rate. Treasury bill now stands at over 24 percent.
On the first day of their action, Executive Secretary of the Civil and Local Government Staff Association (CLOGSAG), Isaac Bampoe Addo, served notice that the group was considering the option of going to court to press home their demands.
'We are looking at all options and there is the possibility of going to court to press home our demands in the coming days if government continues to turn a deaf ear on our call,' he told DAILY GUIDE in an interview yesterday.
Reason
Under the current circumstance, workers who go on retirement risk not getting their lump sum benefits. Aside that, those who have retired since the year 2011 but have made the 5% Tier 2 contributions still cannot access their lump sum benefits based on the contributions made since January 2010—a situation Chief Executive Officer (CEO) of policy think tank, IMANI Ghana, Franklin Cudjoe, has described as a 'a potential crisis.'
This was part of reasons Isaac Bampoe Addo insisted 'funds should be transferred to Fund Managers and Custodians of the various schemes.'
Until that was done, the CLOGSAG leader said, 'We are not going to work,' making the strike an indefinite action.
The strike action seems to have brought government under intense pressure, with calls for it to resolve the concerns of the striking workers.
Justification
But IMANI boss fears 'there may be no accountability as to what the contributions have been used for' and that 'the longer the status quo remains, the direr the accountability question becomes.'
Mr Cudjoe, who issued a statement justifying the workers' strike action, quoted a former CEO of NPRA who said, 'It is important that serious efforts are made to reconcile contributors' data to ensure that cash and investment holdings that are under the custody of NPRA in aggregate is equal to the total liability due to the contributors before statements are sent out to them. The caution is that Defined Contribution is fully funded and at any point in time the contributors' statement and the funds should be the same.'
Since the NPRA is not a Fund Manager, Mr Cudjoe insists, 'They have neither the resources nor the skill to be investing the contributions they have received since January 2011 in order to maximise returns for workers' contributions.'
Demands
He therefore stressed the need for the National Pensions Regulatory Authority (NPRA) to be made to 'immediately produce an investment report showing how much monies have been received, what it has been invested in return on investment over the period.'
He also suggested, 'The NPRA should be ordered to announce a cut-off date for taking Tier 2 contributions into the Temporary Pension Fund by employers.' Employers must be informed to make their mandatory Tier 2 and voluntary Tier 3 contributions into schemes of their choice, starting from contributions.'
Aside that, he insisted, 'The Board Chairman (or the entire Board) of the NPRA must be made to step aside while a forensic audit is undertaken on the stewardship of the NPRA over the Temporary Pension Fund and the investment activities of the NPRA with respect to same.'
By Charles Takyi-Boadu