Health Workers Train On Ebola Case Management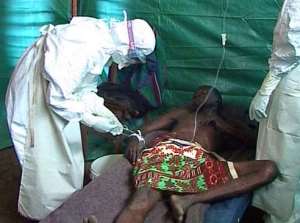 From left seated: Dr Magda Robelo, Dr Kwaku Agyemang, H. E Hege Hertzberg with the Ebola country response team
Frontline health workers from various health institutions across the country have begun a three-day workshop on the management of Ebola cases.
The workshop is aimed at equipping health workers with the necessary skills for prompt and effective case management, infection control and prevention, outbreak response, safe burials and psychosocial support, which  are key elements in the fight against the deadly Ebola virus.
Dr Kwaku Agyemang-Mensah, Minister of Health, opening the workshop in Accra, said the training, sponsored by the World Health Organisation (WHO) and the Royal Norwegian Embassy, would help in the attainment of the third objective of Ebola Response Roadmap; to strengthen preparedness of all countries to rapidly detect and respond to an Ebola exposure.
'This will enhance the skills and knowledge of personnel to prevent, control and contain the disease,' he said.
Dr Magda Robelo, WHO Country Representative, said the workshop is to give health workers the needed support in the country's Ebola preparedness.
'We do not want to leave anyone behind, we are together on this so that we can make sure Ghana remains free of Ebola,' she said.
She observed that Ghana is in a better place than any other country which is now today being lauded for what they have done in terms of preparations put in place.
'Some of these countries didn't have treatment centres or as many PPEs as you do so what we now have to do is to glue everything together and have a strong, coordinated and well-led system and we shall be safe,' she said.
Dr Robelo also urged the health workers not to lose their motivation and commitment as they represent the foot soldiers of the Ebola response activities.
Hege Hertzberg, Norwegian Ambassador to Ghana, said her country has so far contributed $50 million to the fight against Ebola in the sub-region.
She, however, noted that the money alone is not enough to contain the disease as well trained, committed and supported health workers were important to curb the further spread of Ebola.
Dr Samuel Kaba Akoriyea, Director of Institutional Care Department (ICD) of the Ghana Health Service, said the concept of Ebola case management has to do with everything involved in the treatment of Ebola patient.
He said, 'All regional hospitals have set up isolation wards where they can easily quarantine suspected cases and treat. The country's three zones for Ebola treatment also have a rapid response team attached to man the facilities.'
Dr Kaba Akoriyea also noted that personal protective equipment (PPEs) had been distributed to all regional health facilities and major hospitals in the country.
He said there is a compensation package and insurance for all who would be involved in managing the cases as well.
BY Jamila Akweley Okertchiri