Airtel Adjudged Marketing Oriented Organization Of Year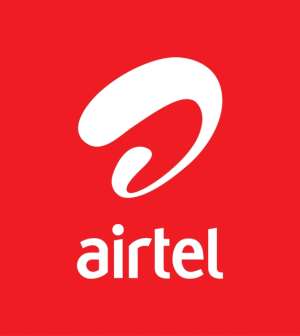 Managing Director of Airtel Ghana, Lucy Quist (6 th from left), with management and staff of Airtel displaying both awards.
Airtel Ghana was adjudjed Marketing Oriented Organization of the Year, the most prestigious and coveted award of the Chartered Institute of Marketing Ghana (CIMG), at the 25th CIMG Marketing Performance Awards held last Saturday at the Banquet Hall, State House in Accra.
The company also won the Brand Activation Programme of the Year award for its Airtel Rising Stars programme, which is a sports talent initiative that seeks to discover and nurture talented male and female footballers under17 years.
The CIMG awards ceremony is held annually to celebrate and honour industry players who have excelled in strategically marketing their products, services and brand.
The awards recognize Airtel Ghana's strategic marketing approach which encompasses its customer driven market insights, marketing strategy development, corporate reputational management, as well as Corporate Social Responsibility initiatives.
It also aims at identifying the organization that has clearly and successfully communicated its core brand values to the market. The corporate brand is loved and trusted by customers.
The Managing Director of Airtel Ghana, Lucy Quist said: 'We are excited to be recognized by such a prestigious organization as the CIMG. We are even more excited because these awards are a testimony that our marketing drive is not only recognized within our telecoms industry but across all industries in Ghana. That is a remarkable achievement by any standards.'
'As we strive to bring more innovative products, services and initiatives to the marketplace, our focus remains on providing our customers with opportunities to make positive change by combining technological advances with cost-efficient solutions. These awards highlight our dedication to pushing the envelope on strategic and creative marketing,' she added.
She thanked CIMG and Airtel customers for the recognition.
The prestigious accolades are testament to Airtel's commitment to its customers and the success of the company's brand campaigns and activations. Notable among such campaigns are  Make your Change, Browse Chaw, Airtel Insurance, Airtel Money, Airtel Rising Stars and Airtel Touching Lives.
With its unrivalled initiatives in Corporate Social Responsibility, Airtel Ghana has received a number of distinguished awards this year.
The company won the prestigious Change Maker award from the Bharti Foundation (Bharti Airtel's CSR body), having come tops among 20 Airtel International operating countries, 17 of which are from Africa.
The first CSR award this year was the Corporate Social Responsibility Company of the Year conferred on Airtel Ghana at the Ghana Telecom Awards organized by Mobile World.
In total Airtel Ghana has won three separate awards for CSR this year.