Gay Doctor Begs For Forgiveness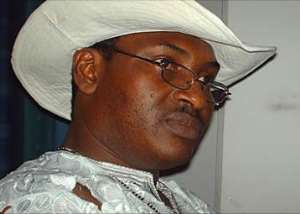 The senior medical doctor at the Effia Nkwanta Government Hospital mired in a sodomy scandal is begging for forgiveness.
Dr. Sulley Ali-Gabass, a practicing Muslim and a respected member of the Muslim Community in Takoradi, sent a distress message to Muslim leaders to forgive and help him deal with his sexual orientation.
He told an opinion leader of the Muslim Community that as a Muslim, he recognized it was wrong for him to be involved with fellow men, but added he had tried in vain to stop.
He said the Muslim Community, where he is an inspiration to many young people, should not abandon him.
Joy News' Manasseh Azure Awuni blew the cover on Dr. Ali-Gabass' homosexual activities in a thrilling investigation.
A victim of the medical doctor, Aziz (not his real name) has been left badly injured and required surgery to survive.
The 16-year-old has also been diagnosed with HIV.
He accuses Dr. Ali-Gabass of infecting him with the virus – a charge the medical doctor flatly rejected.
The doctor's confession in an interview with Manasseh that he had multiple sexual encounters with the boy shocked the Muslim Community in Takoradi which only a few years ago embarked on a street protest against homosexuals in Ghana.
The Representative of the Muslim Community on the Regional Peace Council, Saeed Jallo, led that that demonstration.
He now faces a moral dilemma - hear Dr. Ali-Gabass' cry for forgiveness and support or ostracise him as he preached during the demonstration.
Alhaji Jallo told Joy FM's Western Regional Correspondent, Kwaku Owusu Peprah the Zongo Community there is still in shock.
He said members of the community were in denial until they heard the doctor confessing to the act.
"When you go to the Muslim Communities, you will see that every place is quiet because Dr. Sulley Gabass is one person who has helped the Muslim Community," he stated.