UK minister, troops fly to Sierra Leone in Ebola effort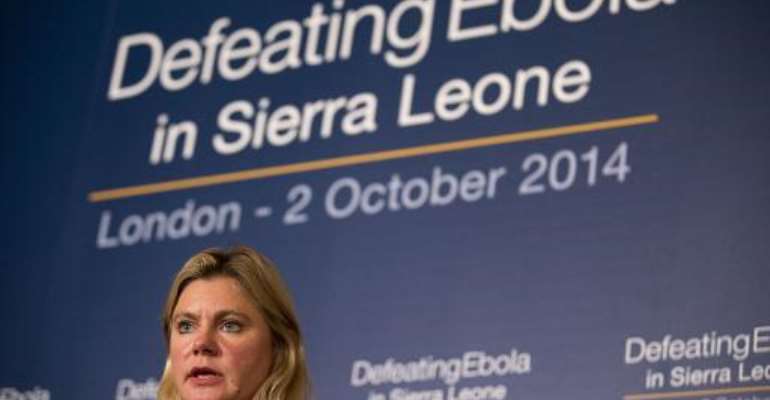 London (AFP) - International Development Secretary Justine Greening joined around 100 soldiers on a flight to Sierra Leone early Tuesday as part of Britain's response to the deadly Ebola virus.
The Cabinet minister flew out from RAF Brize Norton in Oxfordshire with troops from the Royal Army Medical Corps.
Britain is taking part in an international effort to combat the worst ever outbreak of the disease, and has pledged a £125 million aid package including support for 700 treatment beds in the West African.
According to the last toll given by the World Health Organization (WHO), the outbreak of the haemorrhagic fever has left 4,555 dead out of 9,216 cases registered.
The medics deploying to the country are from Catterick-based 35 Squadron, 5 Armoured Medical Regiment and Royal Army Medical Corps, the Department for International Development said in a statement.
They will staff an Ebola Training Academy alongside around 90 personnel from 22 Field Hospital who left for Sierra Leone last week.
Greening will visit the academy, as well as the site of a 92-bed treatment facility in Kerry Town which is in the final stages of being constructed.
"Halting the disease in West Africa is the most effective way of preventing Ebola infecting people here in the UK," Greening said.
"That is why we are providing 700 treatment beds in Sierra Leone, sending vital supplies such as chlorine and protective clothing, and training hundreds of health workers.
"I look forward to seeing for myself how British Army medics and engineers, as well as our humanitarian and health workers, are spearheading the UK's efforts to contain and ultimately defeat Ebola."
Altogether the UK is deploying 750 military personnel, including the Royal Navy medical ship RFA Argus carrying three Merlin helicopters which departed for Sierra Leone last Friday.
The troop deployment comes as Britain began screening passengers from West Africa at Gatwick Airport on Tuesday, a week after similar measures were rolled out at Heathrow.