NPP Disbands Splinter Groups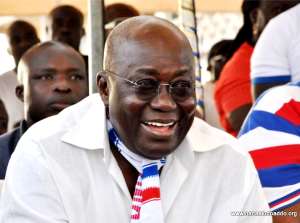 The opposition New Patriotic Party (NPP) has disbanded all groups within the party formed prior to last Saturday's delegates' congress to elect its 2016 flagbearer.
All groups loyal to the flagbearer aspirants who were seeking to lead the party have been dissolved, according to the Northern regional Secretary of the NPP, Sule Salifu.
Speaking to DAILY GUIDE yesterday, the NPP scribe indicated that it was
for the sake of the party's unity and cohesion that leadership of the party in the region arrived at that decision. He urged members, especially the youth, to adhere to the new directive.
According to him, once a flagbearer has been chosen all members are required to solidly rally behind him. He therefore urged supporters of the NPP to ensure that they win more souls for the party to emerge victorious in 2016.
He observed that such groups, if allowed to exist, will not inure to the benefit of the party particularly at a time its national leadership is preaching peace within
the party to make it a formidable force to reckon with.
Mr Sule disclosed that the task ahead of the party in 2016 was no child's play and indicated that it is only through a united front that the NPP can unseat the incumbent NDC government.
The incompetence of the current NDC administration, coupled with the high
cost of living being decried by the majority of Ghanaians, he noted, does not
guarantee the NPP power in 2016.
He, however, urged party members to ensure that Ghanaians see the party as the best alternative to salvage the country from its current quagmire.
This, he explained, can only be done if members eschew factionalism, bickering and put matters that arose prior to last Saturday's congress behind them and push for the removal of the current government which is saddled with a myriad of problems, including corruption.
The NPP leader urged party supporters, especially those in the Northern region, to work extra hard to make the NPP more attractive to the electorate at the grassroots since it is the last hope for Ghanaians.
'We cannot afford to fail Ghanaians this time round.
They have so much confidence in us to win power in 2016 and turn things around
to improve their standard of living,' he stressed.
The concession by the other two candidates at the Efua Sutherland Children's Park, he indicated, was a signal to the rest of the world that the party is united. He admonished those at the grassroots to preach peace and move
ahead.
'The NDC is aware we are winning in 2016 so let us all join hands in achieving
the dream of operation return to Power in 2016,' he urged.