'Nana Addo Is Ghana's Saviour'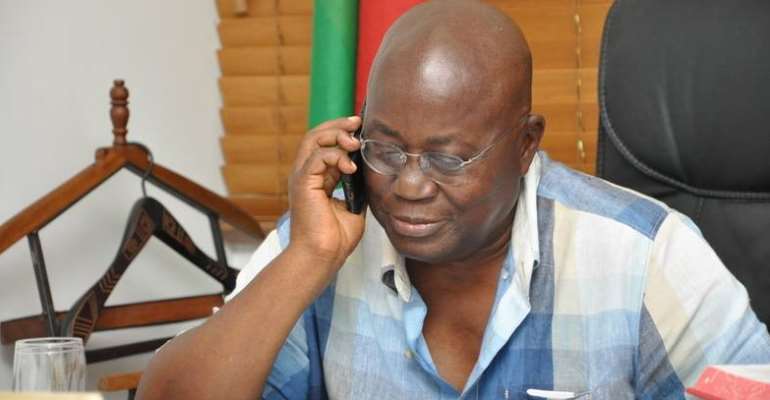 A prospective voter going through the process
MEMBER OF Parliament for Tema Central Constituency, Kofi Brako, has stated that Ghanaians have been craving for the elected New Patriotic Party (NPP) flagbearer, Nana Addo Dankwa Akufo-Addo, to come and save the country from the economic crisis it is going through.
According to him, a vote for Nana Akufo-Addo was a vote for development, peace, free, quality education and quality healthcare, among others.
Titus Glover, Member of Parliamentary for the Tema East, promised to canvass more votes for the party's newly elected presidential candidate to emerge victorious in the 2016 general elections.
He predicted landslide victory for the MPs in the Tema Metropolis and the NPP flagbearer, saying that the NPP would easily win the general elections.
According to him, the NPP has the goodwill of the people in the constituency, who had vowed to vote massively for him and Nana Akufo-Addo, come 2016.
Speaking to DAILY GUIDE after the NPP presidential primary last Saturday in Tema, the MPs claimed that their prediction was based on the response of the electorate and Ghanaians, with regards to the hardship in the country.
After the Saturday polls – beginning with the Tema Central Constituency – Nana Addo Dankwa Akufo-Addo polled 383 valid votes, Francis Addai-Nimoh had 4 votes and Alan Kwadwo Kyerematen garnered 22. The total valid vote cast were 400 out of the expected 436.
The victory continued at Tema East as Nana Addo had 573; Francis Addai-Nimoh, 22 and Alan Kyerematen taking away only 6 votes. Tema West was also another constituency that gave Nana Addo an overwhelming victory, with 646 votes; Francis Addai-Nimoh, 10 and Alan Kyerematen, 20.
At the Ashaiman constituency, Nana Addo garnered   784 votes as against Addai-Nimoh's 10 and Alan Kyerematen had 22.
The Ningo election was among those which ended earlier than the closing time. At the end of the exercise, Nana Addo had 263 votes; Francis Addai-Nimoh polled 16 and Alan Kyerematen had 30.
At the Sege Constituency, Nana Addo polled 266; Francis Addai-Nimoh, 2 and Alan Kyerematen, 2.
Some Supporters of the NPP, drawn from Tema Central, Tema East and Tema West constituencies, after the declaration of victory for Nana Addo, converged at the Community Centre at Community One, and marched through the principal streets to announce their readiness to work hard towards victory in the 2016 general elections.
Amidst drumming and dancing, most of the supporters were clad in party T-shirts and with vuvuzelas, they sang praises to God and called on all NPP sympathizers to vote massively for the party in the next national election.
 From Vincent Kubi, Tema