Airtel wins CIMG Brand Activation Program of the Year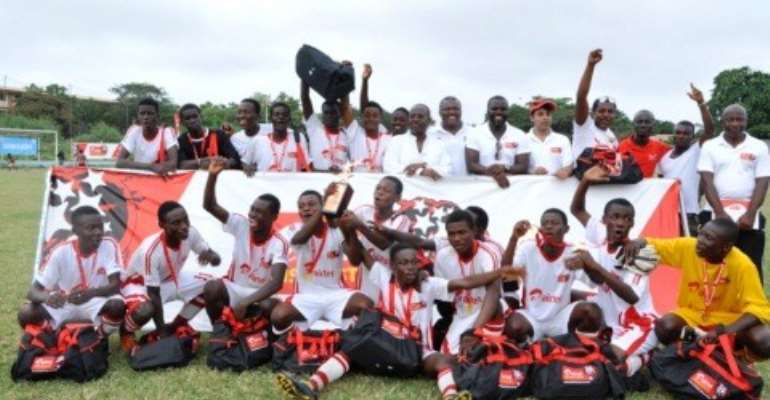 Airtel Rising Stars, one of Airtel Ghana's most loved Corporate Social Responsibility (CSR) initiatives, has been declared the Brand Activation Program of the Year 2013 by the Chartered Institute of Marketing Ghana (CIMG).
"This honor attests to Airtel's unparalleled dedication to recognizing potential and providing an enabling platform for young talents in the sports industry," statement from Airtel said.
Airtel Rising Stars is a sports talent initiative introduced by Airtel that seeks to discover and nurture talented male and female footballers' under 17 years. The initiative runs in all Airtel operations across Africa and seeks to bring to light the skills of these young and talented ones by giving them the platform to become world class football stars.
Aside this award Airtel Rising Star has yielded positive results such as producing budding young football talents like Priscilla Okyere, captain of the Black Maidens and Sandra Owusu Ansa, Belinda Anane, Kubrah Abubakari and Florence Fosuah all of the Black Maidens.
Airtel Ghana says it continues to be committed and passionate about the educational development of the nation's youngsters, not just academically but in other areas as well.
Airtel says it will thus continue to work hand in hand with the Ministry of Education and Ministry of Youth and Sports to promote soccer and other sports which serve as a unifying factor in the country and appeals to the country's youth.
Donald Gwira, Head of Corporate Affairs at Airtel Ghana, said, "We are proud to receive this honour. It fully demonstrates that Airtel Ghana has the public's vote of confidence and support. The series of new brand initiatives launched earlier by Airtel have enjoyed great success.  Notable among them are Airtel Browse Chaw, Mr. Money and Airtel Insurance. Our "Make Your Change" call to action exemplifies Airtel Ghana's strong CSR commitment.
He further noted: "Our Airtel Rising Stars initiative further embraces our brand value of forward-looking, bold, making an impact, flexibility, open and humble. By bringing the power of employees, customers and agents to work together, we realize greater benefits for our customers and the community as a whole."
With its unrivalled initiatives in Corporate Social Responsibility, Airtel Ghana has received a number of distinguished awards this year. The awards presented by renowned organisations include the Gold Award – the highest honour - for ChangeMaker Company of the Year, presented to Airtel Ghana from the Bharti Foundation (Bharti Airtel's CSR body. Airtel Ghana won the prestigious ChangeMaker award, having come tops among nineteen other Airtel operating countries, sixteen of which are from Africa. The other award is the Corporate Social Responsibility Company of the Year conferred on Airtel Ghana at the Ghana Telecom Awards, organized by Mobile World.
The Benchmark "CIMG Awards" recognizes organisations that bring innovations, best practices and excellent governance to the forefront of the industry. The "Brand Activation Program of the Year" aims at identifying the organization that has clearly and successfully communicated its core brand value, as well as the corporate brand most admired by customers and the public in 2013. The initiative was adjudged the best by a panel of judges comprising industry experts underscoring the widespread recognition of Airtel Ghana's brand image.