The Wisemen For Ghana Are In The Church And Abroad—Ghanaians In France Tell Presby Moderator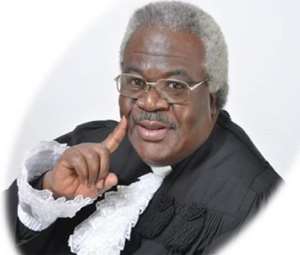 Right Reverend Professor Emmanuel Martey, Moderator of the General Assembly of the Presbyterian Church of Ghana (PCG)
Rt. Rev. Prof. Emmanuel Martey, Moderator of
The Presbyterian Church Of Ghana and Chairman of The
Christian Council of Ghana
The SPEECH DELIVERED BY HON. OSEI MENSAH MICHAEL (GHACIF PRESIDENT)
Mr. Cathechist
Nananom
Leaders and Congregation of Peace Presbyterian Church in Paris
Distinguished Ladies and Gentlemen
Good Afternoon!
It is a great privilege to have a Ghanaian Religious leader in the person of the Rt. Rev. Prof. Martey, Moderator of the Presbyterian Church of Ghana in our midst today. He has come from our home country Ghana to manifest care and concern for us here in France. He is here to reinforce the growth of the church's branches in France.
Rev. Prof, Amartey, on behalf of the Ghanaian Community in France Council,GHACIF, I welcome you to France and also wish you well in all endeavours.
Today almost every Ghanaian Family has relatives in the diaspora. The population of Ghanaians in the diaspora across the generations keep increasing. We have become the nation's greatest offshore asset and the Presbyterian church has a good number of it's people here. We must therefore not remain an island. We are the 11th region of Ghana.
It is great to see enthusiastic compatriots here in France mounting Ghana's legendary church "Presby".
The theme of Ghacif for 2014 is "Bringing Excellence into Our Community. A whole Moderator in our midst today ? The Ghanaian Community in France couldn't have dreamt of a better excellence.
Mr. Moderator I am not here to do politics, but please bear with me that one does not meet a leader of your calibre everyday and the state of our country does not allow the luxury to leave you without interpellation.
Not long ago, I heard you shout "Anyasa fo ee. Mo wo hee".?
My response is:
Anyasafo w) as)redan mu and
Anyasafo w) aburokyire.
Based on this note, I would simply want to convey a goodwill message through you to our abled religious leaders in Ghana.
All I want to say is, As we faithfully follow Christ, Organise and use the influence churches have in the nation to improve rapidly upon the mentality and standards of the nation.
Accross your diasporan branches, bring our hearts home for development. Accross your local branches educate the populace on patriotism.
Let Ghanaians see the need to accept Diasporans accross total participation in nation building.
GHACIF has talked to the President of Ghana and his Government but today, we are sharing thoughts with the leader of Presbyterians that you are and conscious of your concern, I believe it goes down well with you.
We hereby offer you with a GHACIF banner and a book on Ghanaians Abroad written by myself (Hon. Osei Mensah Michael)
Our Slogan is Gyina Pintiin Na Boa Ghana.
Once again, welcome to France. May the Lord God grant an enormous success to this new branch of yours in France and see it multiply rapidly accross the nation.
Long live the Presbyterian Church of Ghana
and God bless you all.