Everybody's Days Are Numbered, Mr. Pratt!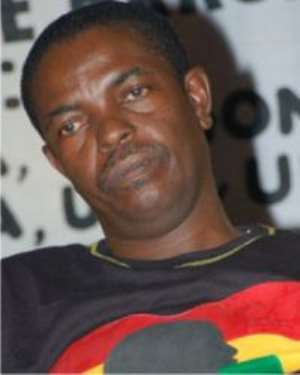 The anti-New Patriotic Party sophists and obstacle creators are, predictably, at it again. Well, in this instance the jaded subject of discourse is, nauseatingly, you guessed it, Mr. Kwesi Pratt, Jr., editor-publisher of the so-called Insight newspaper.
Last week, Mr. Pratt was, as usual, spewing his supposed disgust with the fact that the overwhelming majority of the New Patriotic Party leadership had openly and democratically declared their staunch and unstinted support for the party's two-time presidential candidate, Nana Addo Dankwa Akufo-Addo.
Now the generously paid National Democratic Congress tout is claiming that an Akufo-Addo presidential primary win automatically spells the political doom of Mr. Paul Afoko, the NPP's National Chairman, and Mr. Kwabena Agyei Agyepong, the party's General-Secretary (See "If Nana Wins, Kwabena Agyepong, Paul Afoko's Days Are Numbered" MyJoyOnline.com 10/18/14).
The fact of the matter is that practically speaking, each and every human being's days are numbered, including, of course, the days of Mr. Pratt and Nana Addo Dankwa Akufo-Addo, and yours truly's as well. And so observing that it is only an Akufo-Addo presidential primary win that presages the imminent political demise of Messrs. Afoko and Agyepong is patently absurd, to speak much less about the downright insulting.
But what is significant here, though, and predictably so, is that the leading member of the rump-Convention People's Party (r-CPP) is not telling his audience precisely why he thinks an Akufo-Addo presidential-candidacy win bodes ill for the political fortunes of Messrs. Afoko and Agyepong. And he is not telling us why because Mr. Pratt fully well knows that the two longtime Kyerematen corner operatives presently at party headquarters came to their present posts with the unmistakable agenda of politically euthanizing Nana Akufo-Addo. And the whole country witnessed this nasty streak of the two lock-stepping men during the August 31 NPP Super-Delegates' Congressional Elimination Primaries.
In the preceding instance, Mr. Afoko was widely reported to have publicly and smirkingly showcased his ballot before other voting delegates and the media, against clearly laid-down party rules. Ironically, in the lead-up to the party's Oct. 18 Delegates' Congress, Mr. Agyepong would issue a sternly worded press statement warning delegates against any inappropriate and exuberant display of the names of candidates of their choices on their ballot papers.
Appearing on Radio Gold's "Alhaji And Alhaji" talking-heads, Mr. Pratt was reported to have advised Messrs. Afoko and Agyepong to "think deeply" about their future. Precisely what he meant by the preceding, Mr. Pratt would not say. And this is also rather risible, because such warning presupposes that Messrs. Afoko and Agyepong were, somehow, too naive to fully appreciate the Rawlings-style "Revolution" which they presumed themselves to have effectively launched when they were elected to their present positions at the party's most recent Tamale delegates' congress.
Now, all of a sudden, Mr. Pratt would have the self-confessed politically staid Nana Akufo-Addo stand accused of being the proverbial Jack-the-Ripper. Well, let Messrs. Pratt, Afoko and Agyepong rest assured that short of their own predilection for mischief against the 2016 Presidential Candidate of the New Patriotic Party, and as may be readily attested, Nana Akufo-Addo is an unreservedly good-natured personality who harbors absolutely no vendetta against the trio.
In other words, these three rascals have only their own flagging shadows and demons to contend with in the offing. Besides, there are too many bread-and-butter problems confronting Candidate Akufo-Addo and, God willing, President Akufo-Addo, for the latter to petty-mindedly reduce himself to such puny individual score-settling bouts.