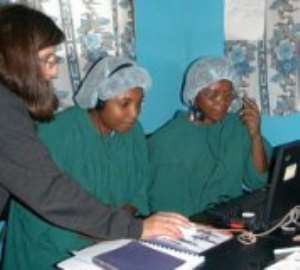 One thousand, two hundred and twenty seven health professionals left their jobs last year. Out of the number,166 were doctors, three dentists, 26 medical assistants, 583 professional nurses and 449 auxiliary nurses.
The Director of the Human Resource Development Division of the Ghana Health Service, Dr Ken Sagoe, who made this known in an interview, described the situation as very critical, since the exodus had had a toll on the staff strength of health facilities in the country.
He said since January this year, nine health facilities across the country had been without any medical officer, the first time the country had experienced such a situation.Dr Sagoe said the situation had given rise to the phenomenon where some unscrupulous people posed as medical practitioners, citing instances in Kintampo and Wa when two fake doctors were apprehended after having "practised" for some time.
This, he said, posed a serious threat to human life since the imposters could cause damage to the health of patients. Dr Sagoe said between 120 and 150 Ghanaian doctors are trained in and outside the country annually and as many as those trained are lost each year.
He lauded efforts by the government to retain health professionals through motivation packages such as the provision of vehicles and incentives for those who accept posting to the rural areas.Dr Sagoe, however, said there was the need for more comprehensive packages, like the provision of houses, to entice the professionals to stay in the country.
Commenting on the situation at the Koforidua Government Hospital, where six housemen were said to have abandoned their post due to some misunderstanding with the hospital management, Dr Sagoe said the action by the housemen was very unfortunate.
The exodus of Ghanaian health professionals abroad has been a major source of worry to the government and the general public for some time now. The government has put in place various incentive packages as part of measures to address the problem.
The issue attracted the attention of the recent meetings of the 57th World Health Assembly, the 114th Executive Board of the World Health Organisation and the Commonwealth Health Ministers, after the Ghanaian delegation, led by the Minister of Health, Dr Kwaku Afriyie, had raised it as part of the agenda for discussion.
In a resolution, the World Health Assembly charged member-states to use government-to-government agreements to set up health personnel exchange programmes to check the exodus of health personnel from their respective countries.
It also called for the exploration of additional measures that might assist in developing fair practices in the international recruitment of health personnel.