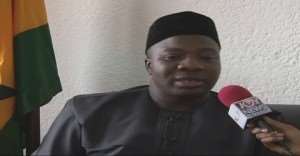 Ghana's minister for Youth and Sports Mahama Ayariga says the West African country is ready to host next year's African Cup of Nations despite the threat of Ebola which has engulfed its neighbouring countries.
The tournament's original host Morocco has asked CAF to postpone the tournament, failing which they would have no choice than to abandon the rights to host Africa's biggest football extravaganza.
The North African country does not want to take any risk with Ebola- a disease spread through contact with body fluids of infected persons – fearing that the arrival of visitors from other countries could send the disease there.
This prompted CAF to ask Ghana and some other countries to standby to host the event but South Africa have directly turned down the offer from Africa's governing body.
However, Ghana says it is ready to host Africa's biggest football event despite fears that some visitors could bring the deadly disease to the country.
Sports Minister Mahama Ayariga told Joy News "Ghana is ready to host the AFCON 2015."
He said the ministry, working with the GFA, can organise a successful nations cup tournament next year.
But a section of Ghanaians are not in favour of government's decision to host the tournament next year.
They told Joy News it would be too risky hosting such a tournament in the country and expressed mistrust in pre-existing health and security systems.
The disease has claimed over 4,500 lives across the world with Guinea, Sierra Leone and Liberia worst affected.
Nigeria has also recorded an outbreak but with few deaths.
Do you think it is wise for Ghana to host the Africa Cup of Nations? Do you think Ghana can take advantage of it to win the AFCON? Do you think the country can deal with the Ebola threat? Do you think Ghana is economically sound to host the tournament? Make your views known in the box below: