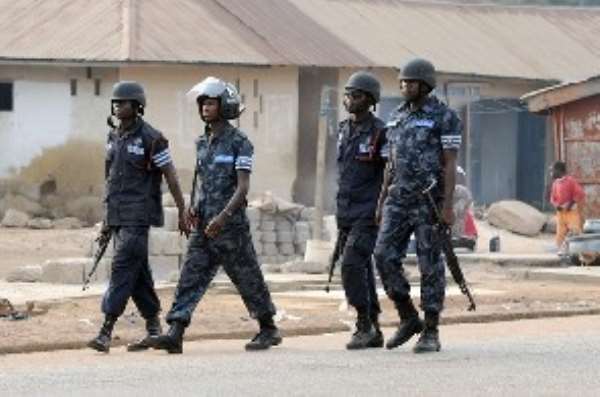 The suspected criminals
THIRTY-EIGHT SUSPECTED armed robbers and pickpockets, who allegedly operate at the Kejetia Bus Terminal in Kumasi, the Ashanti Regional capital, have been apprehended by the police.
Among the arrested persons were seven known hardened criminals who the police had been tracking for some time now.
They are Sasabonsam, School Boy, Bernard Konda, Kwabena Sarfo, Yaw Boateng, Emmanuel Mensah and Nicholas Obuor.
Chief Supt Laar Barman, the Kumasi District Police Commander, made this known whilst addressing the media at Kejetia Thursday morning.
This was when DCOP Kofi Boakye, the Ashanti Regional Police Commander, led a group of armed policemen to storm Kejetia.
Chief Supt Barman said the arrested people were being screened, saying that those found culpable would be processed before court soon.
He flatly debunked media reports that Kejetia had been taken over by robbers and pickpockets, maintaining that the 'police are in firm control of Kejetia.'
He said the Kejetia police post could boast of 24 personnel, including two inspectors, who had made the place safe for the people.
He said some robbers and pickpockets usually wanted to take advantage of the central location and busy nature of Kejetia to rob people.
DCOP Kofi Boakye and his men during the visit to the Kejetia Bus Terminal
DCOP Kofi Boakye was at the Kejetia Bus Terminal to monitor the security situation at the place so as to implement new strategies to boost their operations.
He also used his unannounced visit to interact with drivers and traders at the facility to find out their security concerns and ways of rapidly addressing them.
Addressing the traders and the drivers, DCOP Kofi Boakye sternly cautioned miscreants that operate at Kejetia to put a stop to their activities otherwise they would find themselves at the wrong side of the law.
DCOP Kofi Boakye appealed to people who carry out legitimate businesses at Kejetia to provide the police with names of suspected miscreants who operate at the area.
The police chief gave the assurance that within just one month all robbers and pickpockets at Kejetia would be arrested and processed for court.
During the visit, DCOP Kofi Boakye and his men also inspected KO, 18 Mu and some parts of the central market to monitor the security situation.
He also ordered his men to conduct search on suspected wee peddlers and smokers that were spotted at the Kejetia toilet area.
The traders and the drivers showered praises on the Regional Commander for being proactive when it comes to security issues in the region.
Meanwhile, drama unfolded at the SAT area when hundreds of phone dealers took to their heels upon seeing DCOP Kofi Boakye in their midst.
The police chief wanted to interact with them, most of whom were young men, but they were too scared to come near the police officer.
He cautioned the phone dealers to stop dealing in stolen items and said they would be dealt with when found selling stolen phones.
FROM I.F. Joe Awuah Jnr., Kumasi