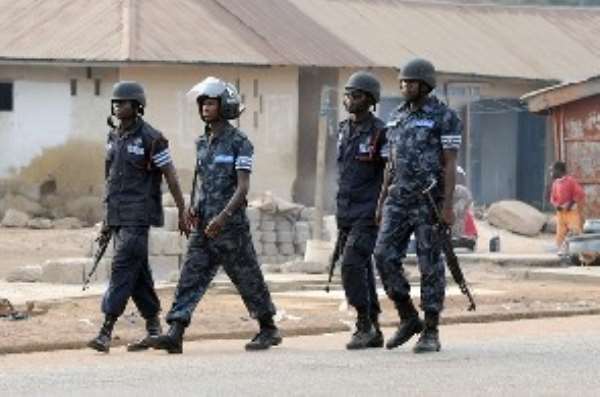 THE COUPLE whose four kids were found dead in an unserviceable mini refrigerator at Bechem in the Brong-Ahafo Region, have been in police custody since the bizarre incident happened on Tuesday.
According to the Brong-Ahafo Regional Police Public Relations Officer, ASP Christopher Tawiah, the couple, Mallam Zakaria, a popular spiritualist and his wife, Madam Mary – both Nigerians resident in the area – are being kept by the police to assist in investigations.
ASP Tawiah hinted  DAILY GUIDE  that the police suspect a foul play, looking at the circumstances surrounding the death of the children.
The four kids namely, Tanko, 12, a Class Two pupil of Bechem Demonstration School;  Arafat, 9; Moses, 6 and the only girl, Atika, 2, a pupil of the Crèche Department of the Joy International School at Bechem, were found dead in a mini unserviceable deep freezer after they were reported missing by their parents.
Their bodies have since been deposited at the Bechem Government Hospital pending autopsy to ascertain the actual cause of their death.
The incident has left many residents in a state of shock, and has also brought the District Security Committee (DISEC) on its knees as an emergency DISEC meeting was summoned by the District Chief Executive of the area, Bukari Zakaria Anaba, on Thursday to deliberate on it.
In the analytical view of ASP Tawiah, it would be extremely difficult for a twelve-year-old boy to enter into a mini refrigerator, and also the way the bodies of the kids had been nicely arranged in the refrigerator was mind-boggling.
He assured the general public that the police would come out with the full facts on the kids' strange death in one week's time.
Reports are that the four kids, the only children of the couple, did not go to school on that fateful day, the reasons only known by the parents.
According to residents, the mother, a trader, cooked for the kids and left them in the custody of their father and left for town to transact some business in the afternoon.
The father was also reported to have left the children in the house and headed for town. When both parents returned home, they could not trace the whereabouts of their kids.
A search party conducted by the neighbours after a complaint to the police, leading to the discovery of the dead bodies of the children in the unused mii deep freezer.
Email:  [email protected]
FROM Fred Tettey Alarti-Amoako, Sunyani