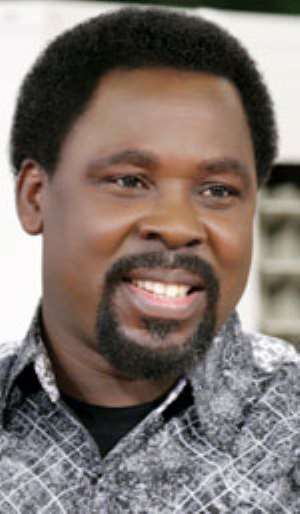 "Let the nations be roused; let them advance into the Valley of Jehoshaphat, for there I will sit to judge all the nations on every side. Swing the sickle, for the harvest is ripe. Come, trample the grapes, for the winepress is full and the vats overflow— so great is their wickedness! Multitudes, multitudes in the valley of decision! For the day of the LORD is near in the valley of decision. The sun and moon will be darkened, and the stars no longer shine. The LORD will roar from Zion and thunder from Jerusalem; the earth and the heavens will tremble. But the Lord will be a refuge for his people, a stronghold for the people of Israel."---Joel 3: 12-16.
"I worship You O! Lord God Almighty, the Creator of the heavens and the earth. I adore, glorify and esteem You, because there's no One like You. You created all things; the earth and all that are in them and said 'Let there be Light' and it was so and You separated the Light from Darkness. You are the Light and in You, there is no darkness or variableness of darkness at all. You are Good, Kind, Loving, Marvelous, Awesome, Gracious and Most Powerful. You are the Omnipresent, Omniscient and Omnipotent; every spirit in heaven, on earth and even down below, including Satan and his fallen angels bow down and submit to You because they have no choice. You are enthroned in the Highest of heavens far above Satan, principalities, powers, and rulers of darkness, demons and their agents. The 24 elders are laying their golden crowns at Your feet, the 4 living creatures are praising and worshiping You; the guardian angels are praying and worshipping, the cherubim and seraphim and uncountable angels they surround Your throne in Majestic Glory; day and night they do not stop praising and worshiping You. As the heavenly hosts and myriad angels are praising and worshiping You, so also those who of us whom You have redeemed from the earth are worshiping, praising and glorifying Your Name. Heavenly Father, I have come before You to report one of Your creatures; one Mr. Temitope B. Joshua of The Synagogue in Lagos, Nigeria, West Africa to You in the heavenly throne so You can intervene in this matter and render justice accordingly.
First before I go into detail, I want to thank You Daddy for saving my soul. I want to express my profound appreciation, heartfelt gratitude and sincere thanks for redeeming my life and offering me salvation through the Precious Blood of Your only-begotten Son, my Lord and Savior Jesus Christ of Nazareth. If I have 1,000 tongues, they would not be enough to express my appreciation for the Crucifixion, Death and Resurrection of my Lord and Savior Jesus Christ through whose shedding blood my sins have been forgiven and not only my sins but also the sins of the whole human race. Thank You, Jesus Christ of Nazareth for saving my soul; Thank You King of kings and Lord of lords for transporting me from the kingdom of darkness to the marvelous kingdom of light of the Savior-the Lord God Almighty. Thank You Jesus Christ, the Son of God, my Savior, Emanuel, God with me and us, my Redeemer, my friend and my Peacemaker. I adore and worship You. There is no one like You; blessed be Your Name for ever and ever, Amen. Holy Spirit, I glorify You and adore Your Name; because You are the Greater One in me than the one-Satan- in the world. Without You, I am nothing. You are the One bearing with my spirit today and always that I am a child of the Living God. I thank You, Holy Spirit for guarding and guiding me, for teaching me all things and making known to me the mysteries of the Lord God Almighty. If there is anything that I have done or said that are not in accordance with Your will, forgive me and cleanse me from all sins and unrighteousness.
I come before You this day with penitent heart and contrite spirit, because evil men and women have arisen O! Lord God Almighty, like the cattle and lions of Bashan, they encircle me Your son, because I stood up and confront evil. They have bandied themselves together at night, they plot evil, wickedness and oppression, for this is their three-fold ministry; kill, steal and destroy. O! Lord God Almighty, this battle is not my own but Yours, because I didn't call myself, You called me my Lord and Savior to bear witness to the Truth. What is the Truth? Your word is Truth (John 17: 17). Jesus Christ of Nazareth, the Son of the Living God, You are the Living Truth. Wherever the children of Satan and servants of darkness might have taken my pictures to and my name in the demonic realm to commit evil and atrocity, Holy Spirit, go there and scatter them in the Mighty Name of Jesus, Amen. Heavenly Father, the Sovereign Lord of the heavens and earth, wherever Satan and his demons and their evil worshippers and human agents have gathered, are gathering now or will gather in the future concerning me for standing out and bearing witness to Your Holy Name, I decree right now by the Name that is above all names; the Name of Jesus Christ and I rain thunder, lightning, fire, sulfur and brimstone into the congregation of evil doers and annihilate and destroy their powers in Jesus Name. Any person, group of people, evil society or satanic congregation that meet individually or collectively to cause me evil and wickedness, Holy Spirit fight on my behalf in the Mighty Name of Jesus, Amen. I put my guardian angels on alert and cause them to hold the sword of God Almighty in their hands right now and always, to fight my enemies in the spirit and supernatural realms in the Mighty Name of Jesus, Amen. No matter their numbers, O! Lord, when they attack in one way, let them be scattered in four ways in Jesus Mighty Name, Amen. I cover me, my wife, children and loved ones with the Blood of Jesus. For my loved ones and I dwell in the shelter of the Most High and we rest in the shadow of the Almighty thus we will say of the LORD, "He is my-our- refuge and my-our- fortress, my-our- God, in whom I-we- trust, Amen." (Psalm 91: 1).
MY PETITION BEFORE GOD'S ETERNAL THRONE: - In Your unchanging word O! Lord, You commanded us to come to You so we can argue the matte and present our case (Isaiah 43: 26: "Review the past for me, let us argue the matter together; state the case for your innocence."). Eternal Father, when You called me, I didn't apply for this job. You were the One who called me and manifested Yourself to me directly nearly 20 years ago and instructed me on what to do. You told me I should say what You put in my mouth and be not afraid. Now Lord, there is a dispute among some of Your creation. One man known as Mr. Temitope Joshua runs a "church" in Nigeria and his followers say he's a man of God. You Lord God Almighty told me this man-Temitope Joshua-is not of You and does not belong to You. I delivered Your message as You gave me earlier this year (The link: PASTOR TEMITOPE JOSHUA AND HIS MINISTRY: The Holy Spirit of the Most High Lord God Almighty, the Creator of the heavens and the earth and all that are in them, Who is enthroned in the highest of heavens with power, authority and dominion subject to Him say, "Tell, Joshua, I know ye not." He said He didn't send Pastor Temitope Joshua but he and his followers "…are of the synagogue of Satan, who claim to be Jews (born again Christians) though they are not, but are liars…."(Revelation 3: 9). The Spirit of the Lord says, remind my faithful worshippers and those who desire to seek the Truth that I warned them in 2 Thessalonians 2: 9: "The coming of the lawless one will be in accordance with how Satan works. He will use all sorts of displays of power through signs and wonders that serve the lie… (Thursday January 02, 2014: (http://nigeriaworld.com/feature/publication/fayemiwo/010214.html ).
This man says he was sent by You, the Lord God Almighty. Precious souls throng his so-called "church" all over Nigeria and beyond. He wows them with miracles and many are asking; Can the True Lord God Almighty stand up? Daddy, You are more than capable of defending Your honor but You instructed those of us You have genuinely called to do this in Ezekiel 3: 17-20: "Son of man, I have made you a watchman for the people of Israel; so hear the word I speak and give them warning from me. When I say to a wicked person, 'You will surely die,' and you do not warn them or speak out to dissuade them from their evil ways in order to save their life, that wicked person will die for their sin, and I will hold you accountable for their blood. But if you do warn the wicked person and they do not turn from their wickedness or from their evil ways, they will die for their sin; but you will have saved yourself."
You are the God of Truth. You have a way of exposing liars and Satanic agents being used by the Enemy to lure the unwary into hell. You attested to how You call Your genuine servants thus in Numbers 12: 6: "Listen to my words: "When there is a prophet among you, I, the LORD, reveal myself to them in visions, I speak to them in dreams." Consequently, in this matter between Mr. Temitope Joshua and I, if it is true that you called Mr. Temitope Joshua into ministry, manifest and show concrete proof of his calling in the congregation of the world in the Mighty Name of Jesus, Amen. In the wilderness, three Levites; Dathan, Korah and Abiram stood against Moses, Your genuine servant. They called Moses out and insulted him, insisting he was deceiving the people and rebelled against him. Moses took the matter to You, O! Lord as we read of the account in Numbers 16: 1-50: "Now Izhar's son Korah, the grandson of Kohath, a descendant of Levi, along with Eliab's sons Dathan and Abiram, and Peleth's son On, a descendant of Reuben, took charge of a rebellion against Moses, along with 250 community leaders, Israelis who were famous men and representatives from the assembly. They gathered together against Moses and Aaron and told them, "You have appropriated too much for yourselves from the entire congregation, since all of them are holy, and the LORD is among them, too. Why do you exalt yourselves over the LORD's assembly?" When Moses heard this, he fell on his face. Then he addressed Korah and his entire company, "In the morning, may the LORD reveal who belongs to him and who is holy. May he cause that person to approach him. May he cause to approach him the one whom he has chosen? Korah, you and your entire company are to bring censers and put fire and incense in them in the LORD's presence tomorrow. It will be that the man whom the LORD chooses will be holy. You're taking too much for yourselves, you descendants of Levi." Moses also told Korah, "Listen now, you descendants of Levi! Is it such an insignificant thing to you that the God of Israel has separated you from the Israelis to draw you to himself, appointing you to do the work of the tent of the LORD and to stand before the community to minister to them? He brought you near, along with all of your relatives, the descendants of Levi. Are you also seeking the priesthood? Therefore you and your group have conspired against the LORD and Aaron. What is it that causes you to complain against him?"
So Moses sent for Eliab's sons Dathan and Abiram, but they responded, "We're not coming. Is it such an insignificant thing that you brought us out of a land flowing with milk and honey, to kill us in the wilderness? Now you're trying to make yourself be a prince and rule over us, aren't you? You still haven't brought us into a land flowing with milk and honey, nor have you given us an inheritance of fields and vineyards. Do you really think that you can make these men look the other way? We won't go up." Moses was very angry, so he told the LORD, "Please don't accept their offering. I haven't taken even one donkey from them nor have I hurt even one of them." Then Moses told Korah, "You and your entire company are to present yourselves in the LORD's presence tomorrow—you, they, and Aaron. Each man is to take a censer, put incense on it, and bring it into the LORD's presence, each man with his censer, for a total of 250 censers. You and Aaron are each to bring his own censer." So each man took his censer, put fire coals inside of it, placed incense in it, and then stood at the entrance to the Tent of Meeting, accompanied by Moses and Aaron. When Korah had assembled the entire community in opposition to Moses and Aaron at the entrance to the Tent of Meeting, the glory of the LORD appeared to the entire community. God Vindicates Moses and Aaron. Then the LORD told Moses and Aaron, "Separate yourselves from among this community, and I'll destroy them in a moment." Then they fell on their faces and said, "God, the God of the spirits of all flesh, will you be angry at the entire congregation on account of one man's sin?"
Then the LORD instructed Moses, "Tell the community to move away from where Korah, Dathan, and Abiram are living." So Moses got up and went to Dathan and Abiram, and the elders of Israel followed him. Then he told the community, "Move away from the camps of these wicked men and don't touch anything that belongs to them. That way you won't be destroyed along with all their sins." So they all moved away from the entire area where Korah, Dathan, and Abiram were living. Now Korah, Dathan, and Abiram stood at the entrance to their tents with their wives, sons, and little children. Then Moses said, "This is how you'll know that the Lord has sent me to do all these awesome works—they're not coming merely from me; If these people die a death similar to all other human beings, or if they are punished with a punishment common to other men, then the LORD didn't send me. But if the LORD creates something new, so that the ground opens its mouth and swallows them and everything that belongs to them and they all descend directly to Sheol while still alive, then you'll know that these men have spurned the LORD." Just as he finished saying all these things, the ground under them split open. The earth opened its mouth and swallowed them, all their households, everyone who was affiliated with Korah, and all of their property. So they and all that belonged to them descended alive to Sheol. Then the earth closed over them. That's how they were annihilated from the assembly. Then all of the Israelis who were around them ran away when they heard them crying, "…so the ground won't swallow us up, too." 35 After this, fire came from the LORD and incinerated the 250 men who offered the incense."
I decree today and in this petition that, if Mr. Temitope Joshua was called by You, the True Lord God Almighty; may his ministry prosper and flourish. However, because You are a God that manifests Your Glory always, if I-Moshood Ademola Fayemiwo-has been called by You and genuinely represent You in this generation, may the ministry known and called Synagogue Church of All Nations of Nigeria (SCOAN) be a byword and a memory in Jesus Christ's Mighty Name, Amen. I decree in the Name of my Lord and Savior Jesus Christ, the Name that is above all names that between this year 2014 and 2017-three years from now-the demonic congregation known and called Synagogue Church of All Nations of Nigeria (SCOAN) will be a thing of the past and distant memory in Jesus Mighty Name, Amen. If Mr. Temitope Joshua is a satanic agent and liar turning the sacred Name of our Lord and Savior upside down, may this man fall into unending crises, disgrace and calamities never experienced by any human being in the Mighty Name of Jesus. As You showed Yourself faithful in the case of Korah, Dathan and Abiran above, show Yourself truthful and faithful in the matter between Mr. Temitope Joshua and I-Moshood Fayemiwo in Jesus Mighty Name.
Heavenly Father, You always show Yourself faithful and True in all ways always. You are the Lord that doesn't change, because You were what You were yesterday, You are what you are today and You will be what You will be forever ("Jesus Christ is the same yesterday and today and forever: Hebrews 13: 8). In the days of King Ahab, the prophets of Baal bandied together to oppose Your servant, Elijah. Just as Mr. Temitope Joshua of the Synagogue of Satan in Nigeria and his satanic agents bandied together now against me-your trues servant- so also it happened as recorded in 1 Kings 18: 20-45: " So Ahab summoned all the people of Israel and the prophets to Mount Carmel. Then Elijah stood in front of them and said, "How much longer will you waver, hobbling between two opinions? If the LORD is God, follow him! But if Baal is God, then follow him!" But the people were completely silent. Then Elijah said to them, "I am the only prophet of the LORD who is left, but Baal has 450 prophets. Now bring two bulls. The prophets of Baal may choose whichever one they wish and cut it into pieces and lay it on the wood of their altar, but without setting fire to it. I will prepare the other bull and lay it on the wood on the altar, but not set fire to it. Then call on the name of your god, and I will call on the name of the LORD. The god who answers by setting fire to the wood is the true God!" And all the people agreed. Then Elijah said to the prophets of Baal, "You go first, for there are many of you. Choose one of the bulls, and prepare it and call on the name of your god. But do not set fire to the wood."
So they prepared one of the bulls and placed it on the altar. Then they called on the name of Baal from morning until noontime, shouting, "O Baal, answer us!" But there was no reply of any kind. Then they danced, hobbling around the altar they had made. About noontime Elijah began mocking them. "You'll have to shout louder," he scoffed, "for surely he is a god! Perhaps he is daydreaming, or is relieving himself. Or maybe he is away on a trip, or is asleep and needs to be wakened!" So they shouted louder, and following their normal custom, they cut themselves with knives and swords until the blood gushed out. They raved all afternoon until the time of the evening sacrifice, but still there was no sound, no reply, no response. Then Elijah called to the people, "Come over here!" They all crowded around him as he repaired the altar of the LORD that had been torn down. He took twelve stones, one to represent each of the tribes of Israel, and he used the stones to rebuild the altar in the name of the LORD. Then he dug a trench around the altar large enough to hold about three gallons. He piled wood on the altar, cut the bull into pieces, and laid the pieces on the wood. Then he said, "Fill four large jars with water, and pour the water over the offering and the wood." After they had done this, he said, "Do the same thing again!" And when they were finished, he said, "Now do it a third time!" So they did as he said and the water ran around the altar and even filled the trench. At the usual time for offering the evening sacrifice, Elijah the prophet walked up to the altar and prayed, "O LORD, God of Abraham, Isaac, and Jacob prove today that you are God in Israel and that I am your servant. Prove that I have done all this at your command. O LORD, answer me! Answer me so these people will know that you, O LORD, are God and that you have brought them back to yourself." Immediately the fire of the LORD flashed down from heaven and burned up the young bull, the wood, the stones, and the dust. It even licked up all the water in the trench! And when all the people saw it, they fell face down on the ground and cried out, "The LORD—he is God! Yes, the LORD is God!" Then Elijah commanded, "Seize all the prophets of Baal. Don't let a single one escape!" So the people seized them all, and Elijah took them down to the Kishon Valley and killed them there." Eternal Rock of Ages, the Lord God Almighty that lives forever and does not change, as You made Yourself faithful to Your True servant, Elijah in the encounter above between the forces of Evil and Good, I petition Your Throne in the heavens today and say; Prove Yourself between Mr. Temitope Joshua and I-Moshood Fayemiwo. If I have written what You told me to write, if I had called out Mr Temitope Joshua as a Satanist as You revealed to me, may Your blessings, protections, grace, mercy, love, kindness and prosperity surround me always in the Mighty Name of Jesus, Amen. If I am indeed truly Your servant and redeemed child of the Living God and have declared fearlessly and un-obstructively Your revealed Words in the case of this Satanist known as Temitope Joshua, may more anointing follow me, may my ministry prosper and may I be a shining example of Your unquenchable Light in this generation. If Mr. Temitope Joshua is a Satanist as You have revealed to me, O! Lord and I had declared Your word as instructed, may Mr. Temitope Joshua fall into disgrace; may all those co-Satanists who have bandied together with him to cause me harm be disgraced. May the Synagogue Ministry at Ikotun Egbe in Lagos, Nigeria, West Africa be a relic, a by-word in the world, a stench that people will point to its ruins and shake their heads? Almighty Father, as You demonstrated Your awesomeness in the wilderness during the rebellion of Korah, Dathan and Abiran and proved Moses as Your true servant; as You did on Mount Carmel and disgraced the 450 false prophets of Satan and proved Elijah right, I decree today that between now 2014 and 2017-in three years-demonstrate Your power, awesomeness and faith between Mr. Temitope Joshua and I –Moshood Fayemiwo, in the Mighty Name of Jesus, Amen.
Finally, in the Acts of Apostles, the Jewish leaders-Sadducees and Pharisees-bandied themselves together to stop the Good News of our Lord and Savior, Jesus Christ by seizing the apostles. They commanded them not to preach in the Awesome and Redeeming Name of the Savior of the human race; Jesus Christ of Nazareth. Here was the encounter yet again between the Forces of Evil and Good in Acts 5:29-41: "Peter and the other apostles replied: "We must obey God rather than human beings! The God of our ancestors raised Jesus from the dead—whom you killed by hanging him on a cross. God exalted him to his own right hand as Prince and Savior that he might bring Israel to repentance and forgive their sins. We are witnesses of these things, and so is the Holy Spirit, whom God has given to those who obey him. When they heard this, they were furious and wanted to put them to death. But a Pharisee named Gamaliel, a teacher of the law, who was honored by all the people, stood up in the Sanhedrin and ordered that the men be put outside for a little while. Then he addressed the Sanhedrin: "Men of Israel, consider carefully what you intend to do to these men. Some time ago Theudas appeared, claiming to be somebody, and about four hundred men rallied to him. He was killed, all his followers were dispersed, and it all came to nothing. After him, Judas the Galilean appeared in the days of the census and led a band of people in revolt. He too was killed, and all his followers were scattered. Therefore, in the present case I advise you: Leave these men alone! Let them go! For if their purpose or activity is of human origin, it will fail. But if it is from God, you will not be able to stop these men; you will only find yourselves fighting against God." His speech persuaded them. They called the apostles in and had them flogged. Then they ordered them not to speak in the name of Jesus, and let them go. The apostles left the Sanhedrin, rejoicing because they had been counted worthy of suffering disgrace for the Name. Day after day, in the temple courts and from house to house, they never stopped teaching and proclaiming the good news that Jesus is the Messiah."
O! Lord God Almighty, the Good News of our Lord and Savior Jesus Christ is still being preached today and always, more than 2,000 years after the Jewish leaders tried to stop it. As Gamaliel said through the Spirit of God, the ministry and the apostles outlived the Sadducees and Pharisees. I pray today that as You proved Yourself between the early apostles and the Jewish leaders to let the world know who is or are of Your own, prove today between now 2014 and 2017-in three years-who between me-Moshood Fayemiwo and Mr Temitope Joshua. As Gamaliel aptly disclosed in the Acts of Apostle above, of the Synagogue of All Nations at Ikotun Egbe Lagos, Nigeria, West Africa was established by You, O! Lord God Almighty and Mr. Temitope Joshua were indeed called by You; may his ministry prosper and endure. But if the Synagogue Church of All Nations was a demonic enclave and Mr. Temitope Joshua is a Satanist and not called by You as You O1 Lord God Almighty revealed to me, may this ministry perish. May the SCOANs become a by-word and not endure and may Mr. Temitope Joshua himself be utterly disgraced in Jesus Mighty Name I have prayed, Amen.
LETTERS
Dear Sir, Keep up the good work. I have been to Synagogue Church of All Nations which I will refer to as the Synagogue of Satan. I had a full service with them and I have to be honest with you and I don't need GOD to come down from heaven as to convince me that this man T.B. Joshua is not of GOD. ---Mr. Celestine Umekwe, Nigeria.
Thanks for your letter, Very soon, we shall all see and the real truth will be revealed.
-----------------------------------------------------------.
Dear Dr. Fayemiwo, I've been following your writing about Mr. Temitope Joshua and I really commend your boldness in Christ. If we have two or three more true Christians that will join you in this fight of faith, I can assure you that this demonic kingdom would have been pulled down. God will not come down to do it, He'll use His people. I hate when people are saying Mr. Temitope Joshua is being persecuted because of the collapse of his satanic building. Please, I like you to remind the public that the then Redeemed Christian Church Headquarters' construction in Ebute-Meta, Central Lagos, Nigeria also collapsed few years ago and people knew it was architectural error. So building collapsing is not new and not demonic. But in this case, Mr. Temitope Joshua might have used the lost souls to pay sacrifices. If Pastor Adeboye saw the revelation that the then construction would collapse, he would have asked his members to pray and fast to avert the evil. But Temitope Joshua claimed he saw it but waited for it to happen - that's a food for thought. For your information, I'm not a member of Redeemed Christian Church of God and I don't attend any branch of Redeemed so am not advocating for Pastor Adeboye but we know true men of God by their fruits. Sincerely---Mr. Justin Akinlade, Chicago, IL USA.
------------------------------------------------------------------------
As a regular reader of Nigeriaworld, I read recently about your write up about Mr Temitope Joshua of the SCOAN. I thank God for your life and the grace God has given you to write as led by the Holy Spirit about this Satanic kingdom in Lagos .As a Pastor before I left Nigeria in 1998 that is when this man is just start coming up but when we speak they will think we are jealous but am happy that God has raised another voice out to confront this kingdom which I know the days are numbered. That demonic kingdom set up by Satan and used by Mr. Temitope Joshua is about to collapse and the people will be liberated in Jesus Name. I pray for you always and pray for more boldness, courage, wisdom and divine revelation as you embark on the mission God has committed to your hand, we will continue to pray for you. God bless you. ---Pastor Stephen Osunkeye Redeemed Christian Church of God, Resurrection Power Assembly
Chicago, IL, USA.
Thank you very much, Pastor Oshunkeye for your spiritual backup. The battle is the Lords (1 Samuel 17: 47).
---------------------------------------------------------------------------.
*Dr. Fayemiwo is quondam professor of Biblical Exegesis at Kingdom Bible College and Seminary, Tucson, AZ and CEO, Alternative Lifestyle Communication, DBA Chicago. He is the co-author of the book: "The Kingdom of Satan Exposed" and also member, board of directors/ director of administration, The Millennium Stem Academy Charter School of Chicago, Illinois. Visit his company's website at www.allternativecommunication.net. Please all private email for urgent attention should be sent to this email address: [email protected]