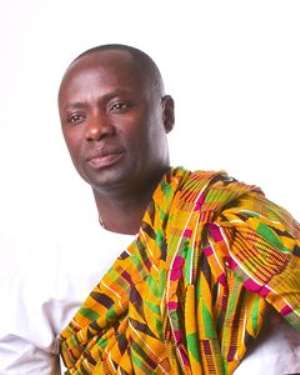 Hon. Emmanuel Armah Kofi Buah, Energy Minister
Ghana Signs 10 Year Contract To Rent Power Barges From Turkish Firm Karadeniz Energy Group
In the midst of chronic power shortages it was recently announced by the Ghana Ministry of Energy that it had entered into a contract with a Turkish firm, Karadeniz Energy Group to rent two floating power plants to produce 450MW of electricity for the national nation's electricity grid.
The 10 year contract is eventually going to cost the Ghanaian Government and tax payers an amount of $1.2 Billion Dollars by the end of the contract but this international financial transaction has not been debated or approved by the Ghanaian Parliament.
Yes indeed ship mounted power plants, designed and tailor made are an ideal solution for a quick resolution of the power generation needs of a country like ours, which has been in constant energy and power generation distress for years. However some have argued whether this deal with this Turkish Karadeniz company really gives Ghana Value for money, In the light of recent revelations that a similar generation plants have been built and supplied to other countries, like the Dominica Republic, Jamaica and Papua New Guinea at much much relatively less costs.
These countries have also signed maintenance contracts with the plant builder Wartsila of Finland and owned the power plants outright in perpetuity.
This lack of transparency in the contract has led to a lot of speculations, and may be half -truths in the Ghanaian press and citizens forums, because $1.2 Billion Dollars is a huge amount of money for a nation to spend on these Karadeniz power generation ships, which Ghana will eventually never come to own at the end of the 10 year Contract.
Though Ghana has provided a sovereign guarantee and made some down payments for these ships to be constructed in Turkey, at the end of the 10 year contract period, according to documents of the Karadeniz Energy Group, the ships will sail away and be redeployed elsewhere.
This does not make business sense to me especially given the fact that Finnish Company Wartsila last year built and delivered two power plants with a combined generation capacity of 430 MW to the Dominican Republic in the Carribean Sea costing Euro 300 million Euros.
http://www.4-traders.com/WARTSILA-B-1412489/news/Wartsila-B–Wartsila-receives-EUR-150-million-power-plant-order-from-Dominican-Republic-13948209/
https://www.youtube.com/watch?v=4z2lJx_kjjI
Yes we need to find sustainable solutions to our energy crisis, but the question is why is the Ghana Government Contract with Karadeniz so much grossly expensive than the prevailing market rates for design, build and procurement of floating power generation ships?
The other question now is what are the terms of this contract and is it fair to the Ghanaian tax payer?
Has our Government made a prudent decision? If so why the Ghana Parliament is not involved in this international transaction and interrogating the terms of this contract before approval is given?
The writer is Ghanaian with experience in the European property and investment markets.