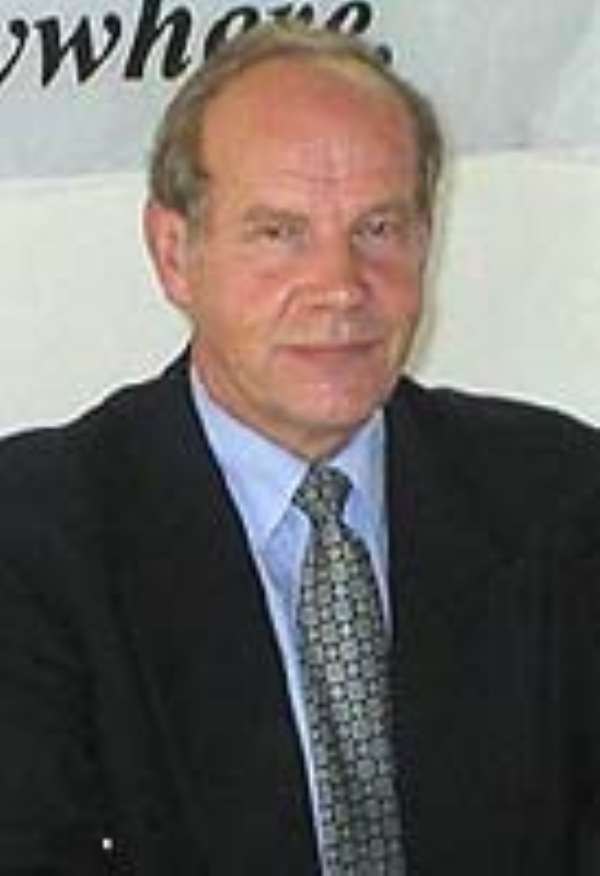 Accra June 22, GNA - Ghana Telecom (GT) is being restructured to march up with international competitors and also provide quality and affordable services to the public, Mr Oystein Bjorge, Chief Executive Officer of Ghana Telecom said in Accra on Tuesday.
Mr Bjorge said with the current technological advancement in the field of telecommunication, GT needed a change in its operations to meet the challenges ahead.
Mr Bjorge was speaking at a press briefing on the launch of GT's new logo to be out-doored on Thursday June 24.
The restructuring exercise would include the installation of new equipment, replacement of obsolete equipment, the introduction of new tariff system that would make telephone calls cheaper and affordable. Others were the retraining of staff, attitudinal changes among its staff and expansion in "One Touch" cell phone and fixed network as well as pay phones and recruitment of more staff.
Mr Bjorge announced that the new logo would march up with its new slogan; "A new dawn for Ghana Telecom," and asked employees of GT to see the new logo as a change in every aspect of their operations.
Chief Executive said, as part of the restructuring, there would be no retrenchment of staff adding that all workers were going to be trained to meet the challenges.
He, therefore, urged the public to exercise restraints and co-operate with the Management to improve on their services.
Mr Bjorge noted that the current logo of GT was old-fashioned and stressed the need to fashion out a new logo to march up with international standards and appealed to the public to settle their bills promptly to enable the Company to continue to provide quality and affordable services.
He called on the media to assist GT to educate the public against inserting foreign materials into the payphones.
Mr Ernst Thue, Senior Advisor of the Change Process, GT, said as part of the restructuring, the Management had toured all the 10 regions educating members on the need to improve on their performance. Mr Thue said GT was about to open new offices in Koforidua and Ho in the Eastern and Volta Regions.
On the payphones, he announced that GT had provided 8,000 jobs to the unemployed so far adding that number of payphones would be increased from the 4,998 in 2002 to 29,998 payphones by 2007.
He said GT had installed a new transmitter to ease trafficking to other networks adding "this explains why people using GT network to call other network had become very easy these days".
Mr Thue said the Management had put in place a Fraud Management System to check fraud in its network, while it was also trying to get accreditation to award diplomas and degrees at its training school in Accra.