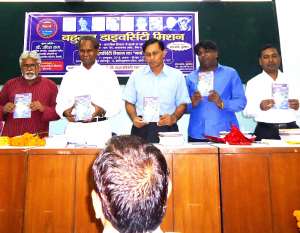 New Delhi: Bahujan Diversity Mission has launched a nation-wide movement to ensure representation to Scheduled castes (SC) and Scheduled Tribes (ST) in private sectors. 9th Diversity Day celebrated at Indian Social Institute, while addressing the delegates from across the country National President of the Mission Shri H.L. Dusadh stressed upon the need of formation of a broader alliance small groups working in every state to achieve the goal.
Since Constitutional reservations given by Babasaheb Dr. B.R. Ambedkar to these communities in government sectors have been shrinking due to rapidly growing privatization, therefore, we should force the Union government to introduce a Bill in Parliament to ensure reservation in private sectors. This will not be possible until SC/ST is united at national level.
Dalit Christian leader and columnist R.L. Francis said that globalization has promoted private sectors. The Union government is not keen for the creation of jobs in government sectors; consequently, job opportunity in government is shrinking day by day. In the given situation Dalit-Adivasis have no future if they are not going to confront with the government to implement diversity in private sectors.
Francis also raised the point as to how Churches of India have denied representation to Dalits in church controlled institutions. He strongly opposed the demand of Dalit Christians should be included Hindu SC list. He further elaborated that Church is the richest institution having second largest economy after government of India. There are more than 45,000 institutions run by the Churches in India but none of them willing to give representation to Dalits. He forcefully argued Church must ensure Dalit representation as well as adopt diversity as soon as possible.
Dr. Mahendra Pratap Rana, activist and thinker raised the issue of dual slavery carried out by elected representatives in Lok Sabha, State Assembles and even lower level. There are 131 MPs in Lok Sabha belonging to SC/ST, out of this figure; SC numbers is 84 and ST 47 respectively. SC and ST candidates are given tickets according to the Articles 330 and 332 of the Indian constitution. Therefore, constitutionally, the elected members constitute a separate group. However, they are not recognized as a separate group in the house. SC/ST candidates elected on a symbol of any particular political party are counted the member of that political party.
When it comes to voting in the house, they have to vote on party line despite all disagreements, they are tied with party whip. Defying the whip means losing membership. Whip and party affiliation both is political gimmick to keep SC/ST elected members divide. This is against the spirit of Articles 330 and 332 of the Indian Constitution. Since they are elected under the special provision (Reservation) of the Indian Constitution, therefore, party constitution and party whip should not be binding on them. They should not be controlled by party constitution and party whip. The dual slavery of SC and ST elected candidates will not end till they are not liberated from party line and party whip. The SC and ST elected members for Lok Sabha and Assemblies should be recognized a separate group and must be allotted seats at one place.
Dr. Udit Raj, M.P. Lok Sabha Chief Guest endorsed the proposal of formation of a national level organization and assured to extend all possible support. Vijayendra Kumar Singh, editor-Dainik Swaraj Newspaper said that Dalits have been pushed behind socially, educationally and economically. Justice can be accorded to them only when diversity is implemented in India. Mr. Sudesh Tanwar called entire Dalit community to get united if they really want their due share and this could be achieved only through diversity. Prof. (Ms.) Hemlata Mahiswar, Sheel Bodhi and many others share their views and supported the resolution moved in the end of the programme.