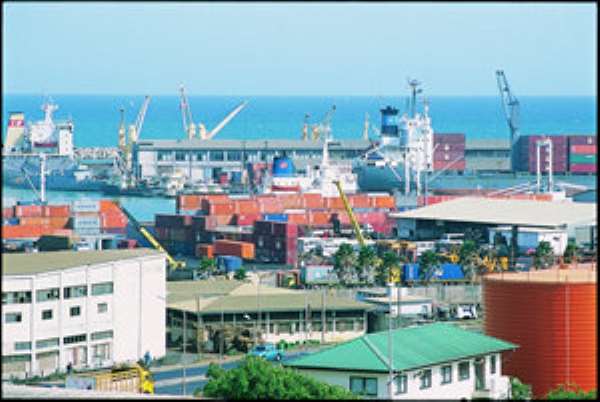 Tema, June 22, GNA - With effect from July 1, 2004, anyone without valid identification will not be allowed entry into the port of Tema as it becomes a restricted area to the public.
This and others were measures being put in place by the Ghana Ports and Harbours Authority (GPHA) to comply with the July one deadline on the International Ship and Port Security (ISPS) code of the International Maritime Organisation (IMO) rules and regulations.
The GPHA has therefore introduced new security identification tags and without proper identification no one will be allowed into the port. Any attempt without the proper identification will face the law.
Following the September 11, 2001 terrorist attacks in the United States of America; ports all over the world were requested to tighten security to prevent possible attacks, since ships and others were vulnerable. The implementation of the measures seeks to protect against terrorism, sabotage, stowaways/illegal immigrants, asylum seekers, piracy, and armed robbery against ships, seizure, pilferage or surprise.
Briefing newsmen at Tema on the preparations so far made towards the security control in conformity with the ISPS code, Captain Victor Jonah, Harbour Master said trucks coming into the port must equally register with the GPHA, while close circuit televisions are placed at vantage points that would expose any clandestine dealings.
"July one is going to be a different ball game", Captain Jonah stated and warned the workers, especially those at the security not to allow themselves to be influenced, because the port is where their livelihood is.
He therefore called for extra vigilance to prevent trucks, which have no business in the port to enter "else you have yourselves to blame". The Harbour Master said the Ministry of Ports, Harbours and Railways has issued GPHA with certificate of statement of compliance as a port facility.
He said to ensure that people complied with the measures, the GPHA has organised series of awareness seminars for port users, including the Ghana Institute of Freight Forwarders, Immigrations Officers, Officers of the Customs Excise and Preventive Service, Ghana Dock Labour Company and Stevedore Companies.
With resource persons drawn from the Regional Maritime Academy, the 500 participants focused on topics such as "Port Security Measures, Goals and Principles", "Emergency Preparedness-Contingency Planning", "Security Drills/Exercise", and "Threats Facing Port Security among others.