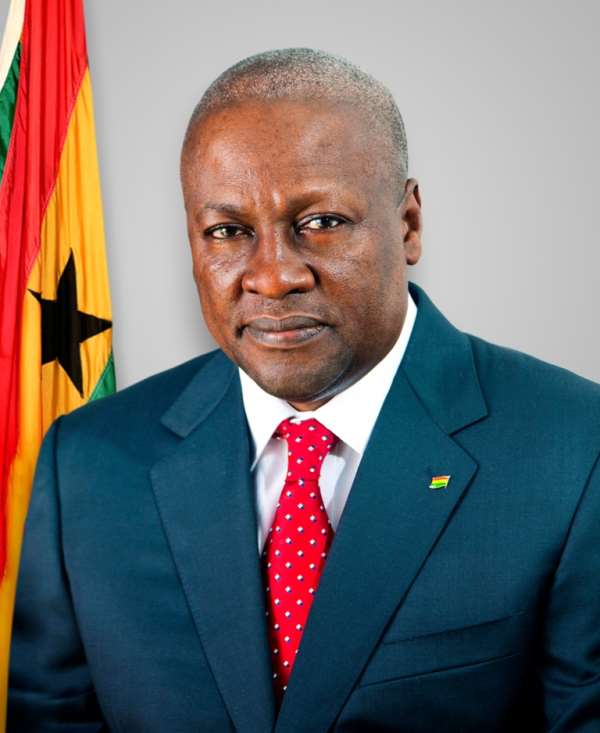 Free education was the NPP mantra prior to the 2012 general elections. Mahama jumped out to the scene to defend, perhaps by actuarial statistics, that free education is only possible after 2020 fearing NPP will take 2012 and 2016. When incidentally he came to power, you could see it from his midnight address, he later declared his support for free education, giving a redefinition as if he had skipped it in his law book. The NPP youth were already jubilating ahead of the declaration while frustrated Mahama consoled himself to declare he will willingly respect the decision of the Electoral Commission.
With no budget for it yet, they planned constructing 200 SHSs across the country; they even did a ground breaking ceremony labelling them community day Senior High Schools. I don't know what the so called wise men designated to monitor the process had to tell them. Mahama and his government argued that many people fell out of the admission process into colleges of education because of the collectively gargantuan amount government had to pay on allowances. In this light he suggested the scraping of teacher trainee allowance and the building of ten new colleges of education to augment the existing ones. Colleges of education have been just around forty since time immemorial; Mahama wants to add ten in the short term. Public Senior High Schools have been around 500, Mahama wants to add 200, perhaps in the medium term. To populate his itinerary he wants Polytechnics upgraded to technical universities. He scraped off teachers research allowance to replace it with Research fund. I don't know what correlation that has with TALIF.
In addition following the midyear supplementary budget, Mahama pledged supplying pads to "Chibuk"school girls, sorry Ghana School girls as a priority to the backlog of arrears of feeding grants for government institutions. At the basic level Headmasters were crying hue because of capitation grants.
People teachers under the GES were laid off in September as if government had trained teachers in store. This creates a vacancy pending the churning out of qualified teachers from his proposed colleges to fill the gap. Only few were supported by government to attain professional status. Laptops have been distributed to schools, perhaps the highest in Africa, without the requisite man power to offer the training. I don't know what effort government is making with regards to ICT training on the side of the teacher. I will not comment on academic standards at the BECE and WASSCE level.
The health sector was not left out with regards to the laying off exercise under the YEP which later underwent a lot of metamorphoses with its new modules. Maternal and Child health related goals will not be met by the close of 2015. The nurses trainees too have demonstrated in vain since their allowances were scrapped off like the teacher-trainee counterparts. Thousands of CHPS compounds have been built.(CHPS compounds are not like Senior High Schools in size). It is also true to say scores of big time projects in the health sector have been abandoned. Enough with that. The rancor and arbitrariness in the management of Korle Bu and KomfoAnokye have not been left out.
To recall Mills went for loan citing his predecessor left nothing for him. This $3 billion facility( later whittled down to 1.5 billion) was used in government infrastructure projects including schools, electricity, among others. Mahama argued except South Africa Ghana has the highest coverage with respect to electrification of communities as a consequence. For the huge debts government revenue is being used to service them. Much of this includes internal sources.
The government had rushed to Single Spine without looking further hoping the oil money will bail them out. This has been nullified by the high cost of living. Be not deceived when traders are being made to line up in Kantamanto market or elsewhere to present a ball of kenkey for Gp 0.50 to the President. Even in Bole it is only a nostril full.
This rushed decision led to the huge wage bill even as the revenue target for GRA was achieved that year. The economy begins to stagger whilst Mahama is encouraged, not to hold the bull by the horns, but to behave "elderly", by telling lies to the children that all was right at the moment he himself believes he is on tenterhooks. People took the wind out of Mahama's sail suggesting an IMF bail out, which the NDC denied. Later they went for their own vomit, but stating the assistance could be technical or financial.Now it is clearly a three-year financial deal with all its stringent conditionalities and the consequent effect on the people.
Governors of the Central bank, finance ministers, and the President including his Vice have been spurring people on to belief the economy is in short term challenges and could not be said to be in crisis citing arbitrary growth figures. Efforts were being made to improve the cedi, most of which have received criticisms from the opposition as mundane. Varying figures or interpretation results from the central bank, Statistical Service, business community and independent assessorsfor dollar values for the cedi as well as inflation. The IMF team would not taken these cooked figures lightly. You take out two Ghana cedis, it can't buy the challiewate you use to buy, yet the experts claim they know the figures, that every thing is under control. Mahamaa self-style prophet predicts shame on doomsayers. Well, am also an optimist but I seek facts, and realities not vain imaginations.
Other economic experts suggested retrenchment on the wage bill and not laying off as a panacea. As if lacking ideas, the government drove the economic community and developers to Senchi to arrive at the consensus, perhaps agreeing they have goofed and needed expert advice. A committee was said to look into it and implement the report therefrom, perhaps visavis the National Development Planning Commission and the NDC manifesto and Mahama's impulse meditations dubbed emergency interventions. I am not referring to Ebola phenomenon. Another group of experts are in Accra to diagnose Mahama's gangrening economy, as Seth Tekper left for IMF/World Bank meeting.
Mahama nearly influenced the cancellation of bad debts in the bank in which his brother's borrowings alone exceeded multiple times the rest of the borrowers combined. How much of it has been retrieved in this unpopular case remains a mystery. They link credit worthiness to political affiliations. Without prejudice, lend me such gargantuan amount to me and I would equally purchase an aircraft.
The ministers receive a gargantuan amount, almost a hundred million(together with their allowances) sacrificing a paltry 10% for CHPS compounds project for selected communities. I am yet to see these intervention facilities being raised up. While salary increments have been frozen for the rest of us under SSSS, a graduate teacher will receive only about ten times less, even with the COLA that was added, to forbid salary increments.
Salaries of thousands of teachers and other workers have been withheld for September. Varying reasons have been sited. Some for lack of account numbers, while others settle on financial clearance and auditing. Arrears of close to two years of thousands of workers on the Controller payroll have not been paid them. Earlier a directive was given by the minister of finance to the CAGD not to pay salary arrears exceeding three months. The delay process was restarted with the same old system as if to authenticate documents and ever since such claim forms have been filled nothing has happened. The teacher unions shouted on top of their lungs only to be told the first batch for affected teachers have been cleared in the audit process, pending payment at the time their September salaries have been withheld.Payslips continue to suffer poor print quality under their ACTIVATE/GIFMISS. We hope the migration to the Oracle-enabled RAC platform will also address challenges of the blur printouts of these relevant documents. If you can employ me and fast track processes to start paying me within three months why should I make claims of any arrears? But the beauracracy and delay in the system has been overlooked. How can I be re-engaged and my arrears wouldn't be paid me because of an A4 sheet government printed?
More "lavender hills" and cholera deaths! GYEEDA, NSS sagas linger on.
To breath, the system seems arbitrary. Mahama lacks focus. He doesn't have any real plan. Mahama's government is full of uncertainties as in the back and forth movement of Raliegh waves in the quest for novel ideas.I don't think this is the proverbial sankofa. It is sheer thoughtlessness. The Council of State is another mere window dressing. Government functionaries speak with guts and impunity, saying they are not bound to take the decisions of the consultative body. It can cost the nation hell.
The Auditor General's Reports have been thrown overboard since the government's harmless directive. In Ghana it seems commissions of enquiry are been made for people to tell us how they spent our money without any punitive measures or refund. The world cup commission is not left out. I was in Accra the other time searching for some of these reports but was restrained because the Audit Service library is not open to the general public. I skirted for protocol in my special circumstances in vain. And these can not even be found in Parliament Library until after change of government. By confining them it restricts criticisms ongovernment for lack of facts or evidence. This is where the right to information jumps in. This bill has been the most notorious in modern times, taking centuries to translate into reality.
When NDC first came into power, after a while Mills wiped out the spokesman portfolio and threw Ayariga to the Tourism ministry. There were constant contradictions in official information between the Presidency and Ministry of Information. Mahama consequently wiped out the information ministry, fused their agencies into communication and recreated the spokesman job. Several other amalgamations and partitions in government took place under his regime.
To sympathize with Dr. Kunbuor after he was ripped of his Attorney General position, relegated to the Majority leader, the Minister for Government Business in Parliament was created. Whilst the minority leader lauded such phenomenon, the former Majority and Minority leader Alban Bagbin rendered is as executive incursion on Parliament perhaps unaware he would one be brought back to his old job. With series of reshuffles, the now unpopular MP of Nadowli/Kaleo was denied this portfolio after he was confirmed as the majority leader. The attrition rate, Hon. Kyei-Mensah Bonsu said was very high, perhaps fearing to use reckless or bogus.
In the heat of all these Mahamanever wavers in his economic frontliners, himself being a communication expert or historian, or so he claims. The Eastern Region alone (ever) housed about 5 cabinet ministers like sometimes of the UW/R. People of the NDC world bank, especially northern Volta raised war chants demanding proportional representation. This would be that such a phenomenon would have been proper if the fortune was towards the Eweland. Seth Tekper clings on to his seat. Mahama makes desperate efforts to increase his votes in the Eastern Region, even to win in Nana's hometown. Promises their chiefs and people university and heaven to ensure even distribution.
Streams of people register their displeasure in the way Mahama is handling the country through series of protestations. He appears optimistic even though he would agree he had no magic wand. Meanwhile, every government functionary is mouthful so there is little or no talking.Those made to proclaim government credentials like a poet laureate or praise singer soon cower into silence like a bone being flung upon a intruding or barking dog.
With the ICT park/Hope City on course, it may never complete any time soon unless am mistaken of the Public Private Partnership with some funding from the Rockefeller Foundation. I think this outsourcing will not take away e-health. Just information and probably not from experts. If Seth Tekper's assessment is anything to go by inflation will reside at the top of this 75- story building, including a vertical university, the highest in Africa. This will be an America-come-to-Ghana phenomenon. Personally, I have not critically weighed the implications. Meanwhile the minister of information keep telling us it would be ready first by January 2014 in the Tema free zone. I have been unable to take a tour to obtain first hand information in this huge enterprise.
Job 600 remains pending. MPs continue to use their car trunks for businesses, splinter power plants have been uncoordinated, How do we coordinate the West African Gas pipeline project with our new gas plants? Ghana/Singapore is building a new floating ship, railway may extend to the north against the back drop of Rawlings vitriol on the intelligence of AduBoahen on such feasibility. Perhaps this is a new thinking. EOCO/CID/BNI reorientations with overlapping roles, CHRAJ, NSS, World Cup messes are just but few I know.The government seems arbitrary.
In the course of time Ghanaians will be demanding President Mahama to resign like Yanukovitch, Papandreou or Nixon.
Expect me in Ghana's Rotten Legal System next time.