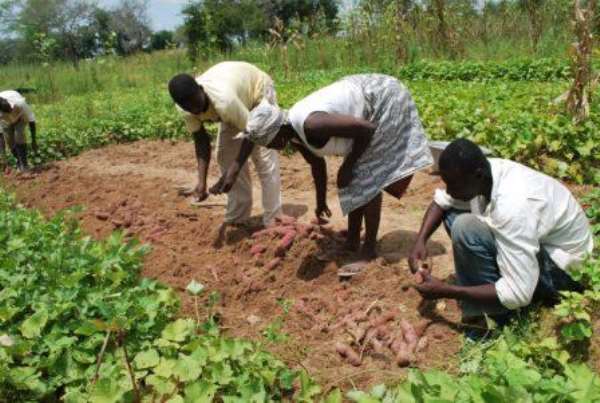 Smallholder farmer, George Amankwaah highlights access to agricultural financing as constituting a critical factor in enhancing productivity of Ghanaian farmers and promoting agribusinesses.
Commercial banks regard the sector as high risk and are often slow in responding to the financial needs of farmers.
Ghanaian agriculturists, like others across Africa, are therefore constrained throughout the production, marketing and distribution stages of their operations.
"We've been doing well by producing so many foodstuffs for the country. Unfortunately the banks that are supposed to grant us loans to do the expansion have ignored us totally; looking at the interest rates, it becomes very hard for one to go for funds," George observed.
The paradigm is however changing. Government is heeding to calls to incorporate farmers' access to financial services into national policies.
New public-private partnerships are also opening up opportunities for agribusinesses to receive support – from production to value addition.
"Everybody always talks about government investing but right now the private sector has a big role to play to take up some of the agricultural investments that are now available for them to make all the money they want", says Dr. Robert Kwabena Asuboa, a Director at the Grains and Legumes Development Board. "There is so much money sitting with the Venture Capital where private people can harness and use it to invest into agro-processing and adding value to agricultural products."
Ghana's Venture Capital Trust Fund has a mandate to provide low-cost long term financing to small and medium scale enterprises.
Since inception in 2006, the Trust Fund has disbursed $3.5million in agricultural value chain financing of cereals and grains for the poultry, livestock and brewery industries.
The Trust Fund is now activating a $20million agricultural fund to expand financing of agricultural ventures, says Chief Executive Officer, Daniel Duku.
"It's a bigger fund so more entrepreneurs, more SMEs can apply," he stated. "That is not necessarily going to stick to the Soya bean but all the agric sectors of the economy."
Agribusinesses, however, complain about the cumbersome processes in accessing support from the Trust Fund, which often do not take into consideration the seasonality of agricultural production.
Mr. Duku says a review has resulted in cutting down the processing period from six to three months. "A lot have changed and we are receiving more applications at this time and processing them faster," he noted.
The Trust Fund has also proposed to provide wholesale lending for rural banks to increase their capitalization. This is to extend the reach of venture capital to smallholder farmers in rural communities.
Local agro-processor, Robert Nketia is cautiously optimistic of the Trust Fund's renewed drive to support agriculture.
"Most of the already existing investments went to other sectors, neglecting the agricultural and agro-processing. But they've now realized their mistake and now focusing on agriculture which will have an impact in creating employment and making it possible that the rural areas are also opened up", he opined. "The question ahead of us is: are they really committed? Because that is only way that as a country we can move forward."
Ghana is among African countries spending at least 10 percent of their annual budget on agriculture, in line with the Comprehensive Africa Agriculture Development Programme (CAADP), an initiative to boost agricultural productivity in Africa.
The programme is implemented by the New Partnership for Africa's Development (NEPAD) Agency of the African Union.
"By adopting the provisions of CAADP programme, countries such as Ghana, Ethiopia and Rwanda have been able to make remarkable progress in the area of food production," observed Dr. Abdalla Hamdok, Deputy Executive Secretary, UN Economic Commission for Africa (UNECA).
Ghana's annual 10 percent investment in agriculture and the inflow from private investments means farmers can access more inputs for higher productivity, improved markets and increased opportunities in agribusiness.
But to commit to the Malabo Declaration of ending hunger and halving poverty by 2025, Ghana needs to do more in achieving higher levels of food production.
The government has a policy of targeted financing in agriculture, according to Acting Trade and Industry Minister, Dr. Mustapha Ahmed.
According to him, "there is special funding arrangement for some industries in poultry, some industries in the pharmaceuticals and then also agribusiness so that they can all boost their production, meet international standards, so that when they export their produce they can meet the market standards".
The policy falls within NEPAD's Agribusiness Strategy 2012, which has a programme that seeks to carry out a set of strategic interventions meant to lay the foundation for sustainable economic development through agribusiness, private investment and agricultural trade across Africa.
It is expected that Ghana's amended Export, Trade, Agricultural and Industrial Development Fund (EDAIF) would help propel the growth of Ghana's agriculture and food processing industry.
Hopefully, farmers, like George can be well positioned to take advantage of existing public-private financing opportunities to increase food production.
Story by Kofi Adu Domfeh