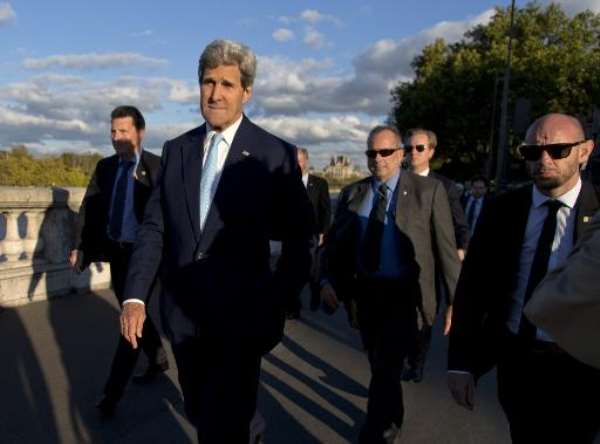 US Secretary of State John Kerry walks in Paris on October 13, 2014. By Carolyn Kaster (Pool/AFP)
Paris (AFP) - US Secretary of State John Kerry will hold surprise talks in Paris with his Libyan counterpart on Tuesday amid growing international concern over the turmoil flourishing in the North African nation.
Kerry will discuss the "current security situation" in Libya with Libyan Foreign Minister Mohammed al-Dairi, a State Department official told AFP.
The top US diplomat flew from Cairo to Paris on Monday for a meeting with French Foreign Minister Laurent Fabius, before key talks late on Tuesday with the top Russian diplomat Sergei Lavrov set to focus on the conflicts in Ukraine and Syria.
His meeting with the Libyan minister comes only days after UN chief Ban Ki-moon paid a surprise visit to Tripoli on Saturday at which he urged the warring factions to end the turmoil which has gripped Libya since dictator Moamer Kadhafi was toppled in an 2011 uprising.
"Let me be clear: if violent confrontations do not cease immediately, if sustainable peace is not restored, prosperity and a better life will be a distant dream," Ban told rival parliamentarians on Saturday.
He flew to Tripoli just weeks after the outgoing government admitted from its safe refuge at Tobruk in the east that it had in effect lost control of the capital to armed militias.
Ban urged the formation of a national unity cabinet as the only way to restore stability.
Libya's parliament, elected in June, is recognised by the international community but contested by the militia controlling most of Tripoli and by Islamists who hold much of the eastern city of Benghazi.
Kerry discussed the crisis in Libya with Fabius on Monday when the two veteran diplomats met for 90 minutes in Paris.
They also discussed efforts to build a US-led coalition to defeat Islamic militants who have seized a large area of territory in Iraq and Syria.
Ahead of trilateral talks between Kerry and his EU and Iranian counterparts in Vienna on Wednesday, he also discussed with Fabius the global efforts "to determine whether Iran is ready to verifiably assure the world that its nuclear programme is exclusively peaceful," a State Department official said.