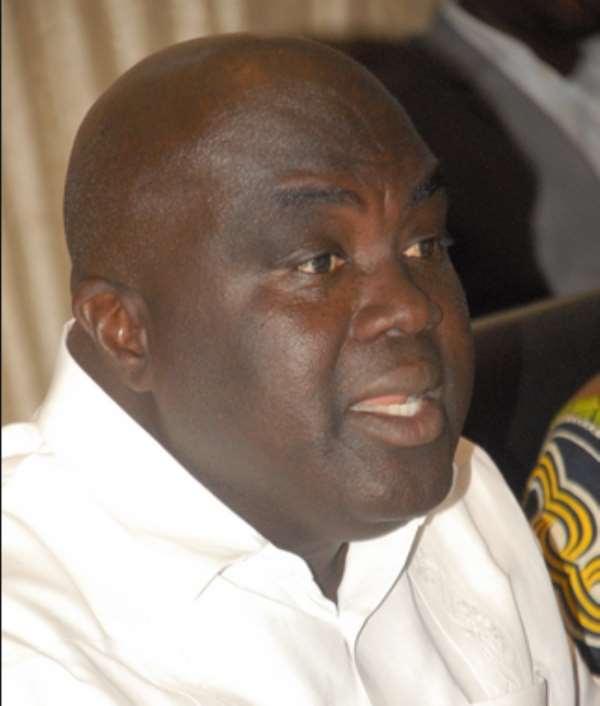 Local Government Minister, Julius Debrah
Bossman Osei- Hyiamang Jnr.
The Convicted District Chief Executive (DCE) for Twifo Atti- Morkwa, Bossman Osei- Hyiamang Jnr. was released from the Ankaful Maximum Security Prison on Saturday morning.
His release was secretly done to avoid media coverage.
Information initially reached Central Press that he would be released by 9am.
According to his close associate, he requested to be freed at dawn because of media coverage.
Currently, he is in Accra where he is receiving medical attention; he is expected to address his supporters on Tuesday at a welcoming party, which will be organized at the new market.
Journalists, who were at the Maximum Security Prison, were disappointed when they were told that the DCE had left.
Last week at the Ankaful Prison, the jailed DCE in an exclusive interview with Central Press, disclosed that he was not ashamed to be imprisoned since he was ensuring that his people received their fair share of development.
He was grateful to the Prison officers for the support shown to him while serving the jail term.
He noted that he wanted the traders to transact their business in the new
market that was constructed 12 years ago by the EU.
Apparently most traders, especially women refused to use the market due to a superstitious belief that the god of a river will not allow females to cross the river during market days.
However, the DCE succeeded in the demolition of the old market for the
traders to move to the new market where there is a police post and fire service
station.
Some traders decided to take the DCE to court for forcing them out of their old market.
In the first case, the court ruled in favour of the DCE but the traders went for an appeal.
The court on August 21, this year, ordered a bailiff to effect a service on Osei- Hyiamang in connection with the court case involving the demolition of the Twifo-Praso market, which the Assembly was to undertake but was challenged at the court by one Alhassan Suleiman.
The court learnt that the bailiff went to the DCE to give the service document to him, but did not meet him and was informed that he was at the market.
When he followed up and attempted to give the document to the DCE, he refused to collect it and moved away.
According to the bailiff, he approached the DCE for the second time with the document and when he refused to collect it, he was compelled to place it beside him as the law demands and this infuriated Osei-Hyiamang, who
rained insults on him.
The DCE was jailed for 14 days by a Cape Coast High Court for contempt.
Earlier, a Deputy Local Government and Rural Development Minister, Nii
Lantey Vanderpuye pleaded on behalf of the convicted DCE, saying he acted
out of frustration.