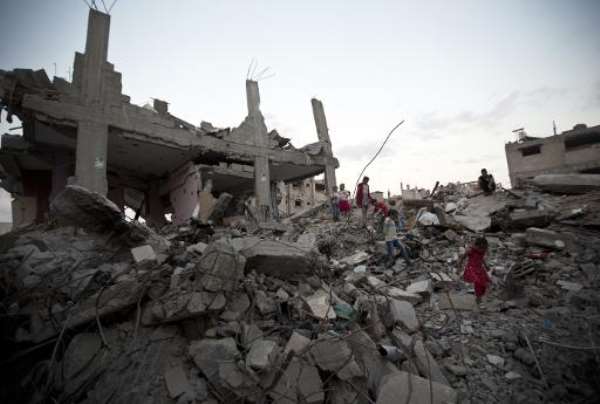 Palestinian children walk amidst the rubble of a building destroyed during the 50-day conflict between Hamas militants and Israel, in the Shejaiya neighbourhood in the east of Gaza City, October 12, 2014. By Mahmud Hams (AFP)
Cairo (AFP) - International donors pledged about $5.4 billion in aid to the devastated Gaza Strip on Sunday and urged Israel and the Palestinians to renew peace efforts.
The conference in Cairo aimed at financing the reconstruction of swathes of Gaza destroyed in a 50-day July-August war between Israel and Hamas.
"The participants pledged approximately $5.4 billion (4.3 billion euros)," said Norwegian Foreign Minister Boerge Brende, reading out a closing statement at the conference which Norway co-hosted.
Gas-rich Qatar led the way with a promise of $1 billion in aid to the coastal enclave.
US Secretary of State John Kerry said Gaza was facing an "enormous" challenge.
"The people of Gaza do need our help, desperately, not tomorrow, not next week, they need it now," Kerry told the gathering of some 30 global envoys.
Kerry, who failed to broker a peace deal between Israel and the Palestinians earlier this year, urged peace talks to prevent renewed violence in the enclave and said the two sides needed to make "tough choices".
Arab and European envoys echoed his call.
The crowded coastal enclave, ruled by the Islamist militant Hamas movement since 2007, remained a "tinderbox," UN chief Ban Ki-moon warned, announcing plans to visit Gaza on Tuesday.
The Palestinians asked for up to $4 billion in international aid to rebuild Gaza.
Washington pledged $212 million and European Union member states 450 million euros, while the United Arab Emirates and Kuwait pledged $200 million each on Sunday.
- 'Gaza remains a tinderbox' -
There is widespread concern that -- after three destructive conflicts in the past six years -- any help to the enclave would eventually be lost in more violence.
Ban expressed the fears of many when he told the conference the situation in Gaza remained potentially explosive.
"Gaza remains a tinderbox, the people desperately need to see results in their daily lives," Ban said.
"This must be the last time. There is clearly some fatigue," he later told reporters.
The Palestinian government unveiled a 76-page reconstruction plan ahead of the conference, with the lion's share of assistance to build housing.
"Gaza has suffered three wars in six years. Entire neighbourhoods have been destroyed," Palestinian president Mahmud Abbas told the conference.
Kerry said the new aid brought Washington's contribution to helping Gaza to more than $400 million over the last year alone.
He was due later to meet Abbas to press for further peace efforts and was expected to try to dissuade him from seeking further recognition of the Palestinians at the United Nations, a move vehemently opposed by Israel.
"Make no mistake. What was compelling about a two-state solution a year ago is even more compelling today," Kerry said.
Kerry's dogged pursuit of an agreement to establish a Palestinian state alongside Israel collapsed in acrimony in April after a difficult nine-month process, and there is little prospect of fresh talks any time soon.
Israel and Hamas militants have yet to even translate their open-ended August ceasefire into a long-term truce.
- 'Unprecedented' financial needs -
This summer's conflict killed nearly 2,200 Palestinians, mostly civilians, while attacks by Gaza militants killed 73 on the Israeli side, mostly soldiers.
It also left the enclave in ruins, displacing more than a quarter of Gaza's population of 1.7 million and leaving 100,000 people homeless.
The UN agency for Palestinian refugees UNRWA has described Gaza's financial needs as "unprecedented".
The United Nations already has plans for $2.1 billion of the funds, with $1.6 billion going to UNRWA and the rest to other agencies including children's organisation UNICEF and development arm UNDP.
One crucial question will be how the aid is delivered, especially given Israel's strict blockade of the territory since 2006.
Brende said half of the money raised would go on reconstruction, while the rest would go on budget support for the Palestinian Authority (PA) and development projects in the West Bank.
Israel was not invited to the conference, but Foreign Minister Avigdor Lieberman said any effort would need his government's consent.
"Gaza cannot be rebuilt without the cooperation and participation of Israel," Lieberman told news website Ynet, though he added that Israel would be "receptive" to plans for "the reconstruction of civilian infrastructure in Gaza".
Internal divisions among the Palestinians are also a matter of widespread concern and they strived to present a united front in advance of the conference.
On Thursday, a new unity government held its first cabinet meeting in Gaza, months after a reconciliation deal between rivals Fatah, which dominates the West Bank-based PA, and Hamas, which is in de facto control of Gaza.