October 10, 2014
|
Feature Article
Dealing With Ghana's Budget Deficits As An Emerging Economy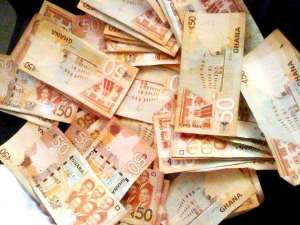 When governance of an an entire country is reduced to mere "propaganda", and saddled with incompetence,mismanagement,excessive borrowing and massive corruption,then there is the need for immediate actions from citizens to hold leaders and bureaucrats accountable and in check.
As an emerging economic power in Africa,it behoves on us as a nation to be vigilant and prudent in the management of budgetary allocations and avoid our political leaders from saddling a bright country with perpetual debts. What is the essence of borrowing excessively to fund projects that do not yield much when we have enough natural resources and human capital? Can one show any country that has borrowed excessively out of proportion into riches and has become an economic power in history?
Surprisingly,these borrowing are done in such a manner that such debts will be paid by posterity. We need take our elections between economy and liberty;profusion and servitude,otherwise a time cometh when these debts will swallow us that we will need to tax people in their meats and in their drinks,in their necessaries and their comforts,in their labors and their amusements and finally in their faith to offset and pay such debts.
In the last two decades, successive governments and administrations have been on borrowing anyhow and this has culminated into borrowing over $20 billion and the latest is the borrowing of about $12 billion in loans in the last six years. I am not against borrowing for development but the level of intensity of borrowing is worrying and caution needs to be used as a yardstick when looking at borrowing.
Budget deficits have been worrying and the ascendancy of our budget deficits in recent times have been worring as an emerging economic power in Africa. Why deal with deficits of yearly budgets? There is the need to look at our deficits seriously because budget deficits drain government resources and could destabilize our economy through investors loss of faith and confidence on governments' ability to service debts.
Over the last one and half decades, Ghana's budget deficits have been growing and having been averaging around 7%. In 2012 alone, budget deficit stood at GH¢8.7 billion (i.e. 12.1% of GDP). Budget deficit can be explained simply as an economic situation where government's revenues fall short of government's expenditures and normally this gap is financed by borrowing. Dealing with a growing budget deficit is not an easy task but a country's ability to deal with it shows that such a nation is doing better for its economic survival and thus will survive in this changing global economy. Why experience budget deficits? This is as a result of citizens increasing demands from governments and therefore forcing governments to overspend above its expenditure.
There are many ways of dealing with our budget deficits as an emerging economic power. Dealing with budget deficits need the passage of a law by Parliament. This law ought to provide ways of reducing budget deficits annually, ensuring a certain percentage of budget deficits annually and finally ensuring a balanced budget as the way forward. Again,Parliament ought to put a ceiling on borrowing by government. Borrowing excessively without a ceiling leads to an increase of interest rates,increase of cost of capital,puts pressure on interest payments owed by government and leads also to crowding out some private investments from borrowing to expand businesses.
When governments continuously borrow especially at higher rates,it leads to less investments and consumptions and higher debts. It is therefore not surprising that our public debts stand around 55.7% of our GDP and such is worrying as an emerging economic power. Also,when government continuously finance budget deficits in an open market economy by borrowing, foreigners will be made to demand more foreign currencies thus affecting our local currency.
Moreover, administrations of the day ought to ensure a well-laid medium term plans of solving budget deficits are implemented since it helps keep both interest rates and local currency low therefore reducing borrowing and consumption and encouraging savings and exports. There should be a political will to consciously reduce government spending at the central level,size of government,corruption and leakages in the systems. This is essential because, Ghana annually loses about $2 billion to corruption and systemic leakages.
Government's spending will have to be cut down and raise more revenues through taxes but it needs to be executed in a phenomenal way which continuous to make Ghana's economy still more productive and very buoyant. Taxes could be raised through a policy reform that makes the entire tax system a less burden to growth and productivity. In addition to tax reforms to increase revenues,government must look at the rate of revenue increments annually too. Increasing revenues does not necessarily mean increasing tax rates because it could lower economic growth which in effect lead to a higher cyclical deficit (i.e. government gets less tax revenues).
Looking at revenue increments without increasing taxes means reducing spending in relation to annual growth of revenues. Why the reduction of spending? This is because spending restraints are good for economic growth since it leaves a greater share of resources in other productive sectors and thus helps revenue to catch up with spending.
Finally,there is the need for government to move away from a consumption oriented budget to one centred on investment,encourage consumption taxes since it could help promote savings as well as focusing on economic growth. Higher economic growth reassures markets, increases tax revenues. No matter the amount of taxes raised, we will fail to deal with our fiscal woes if as an emerging economy power in Africa we do not grow faster and consistently and growing above yearly budget. A strong economy makes it easier to deal with budget deficits if there is consistent positive economic growth.