5 October 2014
|
Education
NGO COLLABORATES WITH STUDENT ORGANIZATION TO MENTOR CHILDREN IN GHANA.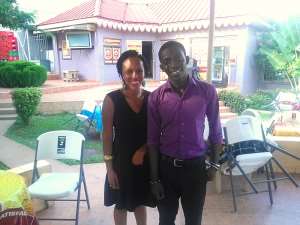 The president of Patriots Ghana Kwame Nkrumah University of Science and Technology, (www.patriotsghana-knust.webs.com) Mr. Emmanuel Yamoah met with the founder and executive director, Miss Elizabeth Patterson and staff of Girls Education Initiative of Ghana (www.girlsedgh.org) in Kumasi. The purpose of the meeting was to discuss the organizations coming into partnership for developmental projects especially collaborating for projects and initiative towards the development of girls in Ghana. Since, this was the first official meeting, both representatives made an introduction of their organizations.
Patriots Ghana-KNUST is a chapter of Patriots Ghana national. Patriots Ghana is a registered non-profit non-governmental organization that serves to develop, encourage and empower the youth (students) to undertake community services geared towards national development. Patriots Ghana-knust also networks and collaborates with organizations (both local and international) working in the field of Health, Education, Human Rights, Research and Advocacy, Cross Cultural Exchange and Economic Development, to help achieve meaningful development in deprived Ghanaian communities.
Girls' Education Initiative of Ghana (GEIG) is also a not for profit organization, that provides girls, including applicants with special needs, beginning in junior secondary school, with academic and financial support so they can access secondary and higher education, and professional opportunities.
The organization currently sponsors children in the Greater Accra and Ashanti Regions with their basic needs and also provides mentorship for the girls. In line with partnership agreements, members of Patriots Ghana KNUST (PGK) will provide voluntary and internship services to GEIG. Members, especially the female university students of PGK would be selected to mentor the girls under sponsorship of GEIG. Also, members of PGK would volunteer in administrative tasks such as office tasks, social media management, blogging, reports writing, etc.
Both organizations would also be holding mentorship clinics, workshops, seminars, and other programs on campus KNUST for children in the region to attend. They also discussed how best to get students and the youth in general involved in community service and volunteering for the development of their personality, the benefit of both organizations, and development of Ghana. Both organizations pledged to support each other and sustain a good partnership.
To apply to be a mentor or a volunteer social media specialist please follow the link below: www.idealist.org/view/org/nDSX3WD9BTnp/ or
Contact Patriots Ghana KNUST on +233247602583 for more details.