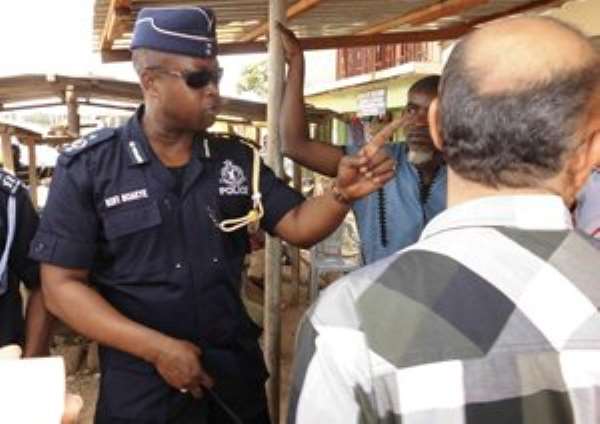 Ashanti Regional police commander, DCOP Kofi Boakye, on Wednesday afternoon stormed Aboabo Number One to ascertain the level of security issues in the area.
Hoodlums, including 'wee' smokers and armed robbers are trying to turn the Aboabo Post Office area into their den.
The police chief, who had made the Ashanti Region a safer place to live, therefore, decided to visit the area to personally monitor things for himself.
Surrounded by armedto- the-teeth policemen, DCOP Boakye, nicknamed 'Commander One' hit the place around 12 noon.
His presence in the densely populated area seemed to have surprised people in the vicinity as they rushed to catch a glimpse of him.
Sources told the paper that known criminals in the area took to their heels when they heard the name 'Kofi Boakye.'
DCOP Kofi Boakye and his men moved straight to the Aboabo Post Office where hoodlums usually stay and operate.
After carefully monitoring the place, the police chief gave some security tips to his men and then moved on.
Upon the instructions of DCOP Kofi Boakye, the police embarked on search in some of the suspected kiosks in the area.
The paper learnt that most of the 'wee' dealers in the community operate in from the footwear kiosks around.
DCOP Kofi Boakye then visited a popular Imam in the area to solicit his views about the security nature of the area.
The police commander and his men then moved through the principal
streets of Aboabo Number One as the crowd cheered them on.
A section of people who spoke to the DAILY GUIDE showered praises on DCOP Kofi Boakye for his proactive nature, adding, 'His presence here will send the criminals fleeing the area.
FROM i.F. Joe Awuah Jnr., Kumasi