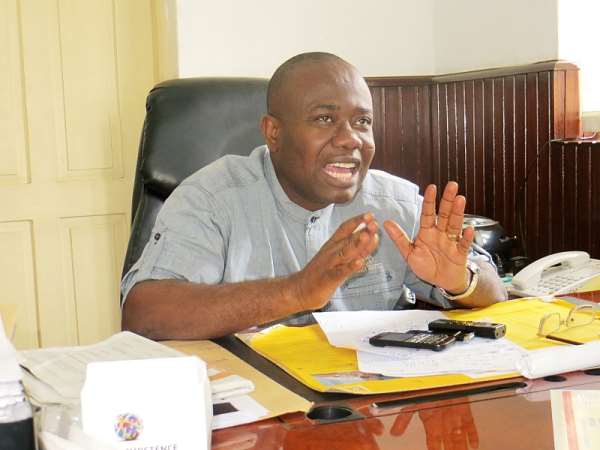 Before the Presidential commission started its work,many of us sounded judgmental,we became more alarmed after listening to the former sports Minister and other persons who acted upon the instruction of the Minister.The Minister received serious bashing from the pedestrian courts based on certain revelations which came up.
My position after listening to Nyantakyi is that,may be,if the Honourable Minister had appeared after the FA officials,he wouldn't have fallen flat as we saw.His confidence would have been solid and submission would have been more coherent.I am not going to support any action which would collapse soccer under my government,we need to be tactful and deligently pick the pieces to build a very solid soccer empire like we had during the tenure of Nkrumah.
The absence of harmony has sometimes affected the survival and viability of our sports we must ensure that administors of our sports enjoy the needed peace in pursuance of their programmes.We must be vigilant as we've exhibited so far to ensure transparency and accountability than,engaging in strategies which would collapse our sports especially,soccer.
Initially Nyantekyi's demeanor was affected by his prior perception of the public's position,the constant bashing in the media,and pedestrian persecution affected his composure initially,but excellent massaging of his emotions by the commissioners,warmed him perfectly into the discussion bringing out the good in him.I have had my issues with the FA but,I must be honest enough to state my admiration for his authority over issues pertaining in his Association.Yes we must still discuss the matter on the public platform but I think we must do that dispassionately so as not to damage gains made.
At least, the commission has done excellent work bringing out mistakes committed and offering cogent suggestions to move the wheel oiled.I changed my position partially after listening to behaviour exhibited by our players,I don't think we must get to this level,burying all our cherished virtues for arrogance,selfishness and greed,a player openly defying reasonable advise and words from the President?
Some of these players are from very humble background,risen to fame through the state machery but have the confidence to tell us wouldn't sleep in a particular hotel because facilities there do not meet his standard.Why should I ignore this,or pretentious blind myself to this nonsense and target someone else.I honestly think we must collectively condemn such anti-Ghanaian attitude to ensure that our traditional values and norms guide every aspect of our national endeavours.
As for the monetary aspect,I have not the authority to state what I don't know but at least,my heart found rest when the FA president respectfully succumbed to the commissioners recommendations for the future.In all we do,let's consider the negative effects if we allow our football to collapse because of pettiness.We must capitalize on revelations captured so far to develop the sports bringing in more innovative ideas,the credit will definitely go to the government of the day and the people of this country.
I got more furious when I got hint of certain individuals whose morals are questionable,trying hard to use certain power blocks bring them on board,I will not support any person who suffers from credibility crisis or persons who want to ripe where they've not sown.If I will fight that course,I will do that for a true and true NDC person who has the know how and who is morally upright but not for persons who think can walk over the party but wait underneath to milk from my sweat.
I am happy the capo himself stated at the commission the likelihood of him taking over as CAF president very soon,I will advise that we support him to attain that height we may not see the benefit to day or may deliberately gloss over the possible benefits because of positions taken but definitely we shall see that soon.We talk about sponsorship how many of our companies who benefit from our patronizing their products,pay back to society through sponsoring our games or sports.We must begin questioning these companies on such issues.
— with Dannash Cord (remove), George Ekegey (remove), Atta Mc