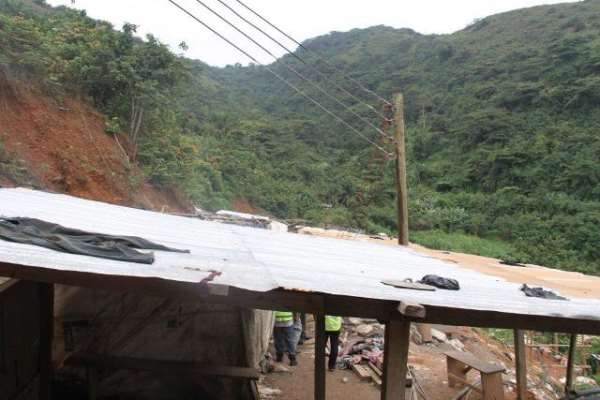 ECG lines at the Kokoteasua site
Littered along the left and right sides of the Obuasi – Afoako road in Amansie District are several galamsey milling factories illegally processing ore possibly 'stolen' from AngloGold Ashanti – Obuasi concession.
Aged between 16 and 45, these illegal miners did not hide the fact that their milling factories are powered by Electricity Company of Ghana (ECG), the state – owned distributors of VRA power, when SpyGhana.com visited their working areas last recently.
"We are legally connected to the national grid and we pay for it to the ECG", Annor Amoabeng, one of the illegal miners, who called himself "Gold Dealer", explained. The situation is no different in New Abompe, Kokotesua and Kunka in Obuasi Municipal Assembly; where illegal miners are savagely competing on AngloGold Ashanti concession for turf to mine on. Power is available and guaranteed for illegal mining activities and the police are not in hurry for their arrest.
Ahmed Tahiru, leads a syndicate in the Kokotesua area and claims that he bought his turf from a sub chief in the area; said "We currently have more than 10 access holes to underground and we use the power for ventilation and all kinds of activities to ensure our workers work comfortably and efficiently underground". Asked whether they are illegally tapping ECG power for free; Alhaji Tahiru explained that the power lines from New Abompe to Kokotesua where we are operating were extended to us by ECG and we pay our bills as well so the company cannot deny us".
AGA officials, on the other hand, say the ECG regional and district managers are aware of the activities of the illegal miners at the New Abompe, Kokotesua and Kunka areas, saying "we have engaged the ECG District managers on the havoc been caused by the illegal miners in these areas several times but they seem to be more interested in something else…".
We have drawn ECG's attention to these illegal miners operating on our concession and using ECG power. We want ECG to deny them power and we also want the government to come and find out for itself how our meagre power resource is been used to fuel illegal mining and other criminal activities, which is bleeding the economy", he said.
"ECG claims that they are losing money because of non-payment of bills by consumers. In a situation where they are supplying free power for illegal activities how can they generate more revenue to ensure ECG's viability and profitability?", a traditional leader whose land has been bled white by illegal miners said. The government should investigate this ethical mess", Frank Akwaboah, an Energy specialist in Kumasi suggested. ECG officials are fully aware of who they are supplying power to and who pay the bills so it is fallacy and fraud on their part to say they are not aware of the galamseys syndicates using ECG power".
Mr Akwaboah, who hails from the municipality, said illegal miners are doing nothing good to the growth and development of Obuasi and are key contributors to challenges facing AngloGold Ashanti, which is the locomotive of the Obuasi economy. "They are destroying farmlands, water bodies and abusing school children, and the future risk is that they are perpetuating insecurity in the municipality".

ECG LINES AT THE KOKOTEASUA SITE

INSTALLATION BOARD AT THE SITE