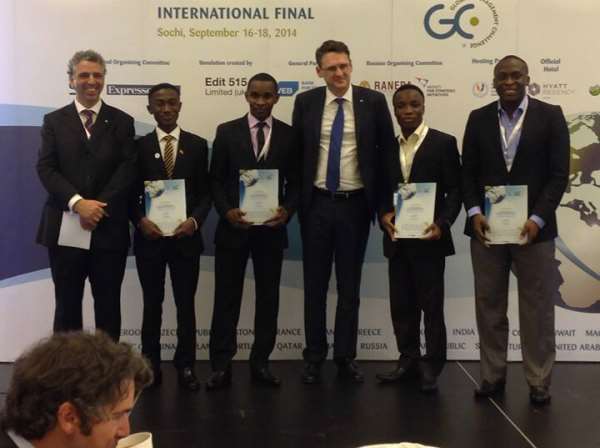 The Global Management Challenge International Final 2013/2014 was held in Sochi, Russia at the Russian International Olympic University (RIOU) from the 16TH September to 19TH September.
The International Final saw 23 National Champions made up of teams from both Universities and corporate organizations coming together to compete for the world championship.
The Form of the International Final Competition
The International final comes in 2 stages;
1. The Semi-Final round where all the qualified national teams are grouped into 4 categories with 8 countries each by a ballot.
2. The Finals - These groups in the semi-final then compete and the top 2 countries with the highest Investment Performances (IP) qualify for the finals to see who emerges as the world champion.
At the Semi-Finals, all the countries are given the same histories (scenario) of a company and are tasked to analyze their performance and subsequently take managerial decisions that will improve the Investment performance of the company given.
The Ghanaian team represented by students from the Valley View University pulled a surprise on the International community as they led their group with the highest IP, and still remained as the top team with the highest IP in the entire competition at the semi-final stage by out beating their competitors like Russia, Spain, China, Slovakia, Portugal who have participated in the competition for close to 25 years.
This saw the team qualify to the finals where it placed 6TH among 8 finalist countries with Russia, Slovakia, PR China taking the 1ST, 2ND and 3RD positions respectively.
The position of the Ghanaian team won the admiration of the International Organizers of the competition and other corporate bodies that were present, and even marveled the other competing countries as they all did not expect such a performance from the Ghanaian team since they were inexperienced in the competition which just started in 2011 in Ghana as compared to the other countries that came to the championship.
For further information on the international finals please visit www.gmcsochi.com

984209 742675662472388 100055614302923831 N

10431198 742670562472898 5025518018884241366 O

10689669 741895185883769 7008206042261914779 N

IMG 20140925 00204457

TWIMG-20140929-115220