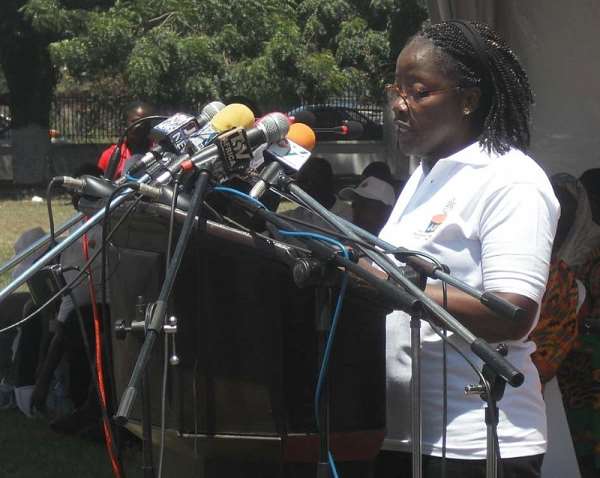 Mrs Matilda Amissah-Arthur AAA
Accra, Sept. 27, GNA - Mrs Matilda Amissah-Arthur, Wife of the Vice President, on Saturday joined members of the public in a health walk as part of the 2014 World Heart Day celebration.
The walk started from the Independence Square through the Osu Oxford Street, the Police Headquarters, Ridge Circle, the Liberation Road, and back to the Independence Square.
The World Heart Day was on the theme: 'Creating Heart Healthy Environment Wherever You Live, Work and Play'.
Mrs Amissah-Arthur urged all to cultivate the habit of exercising, at least 15 minutes every day, to keep the heart strong and healthy.
She urged the public to desist from smoking and adopt the right eating habits.
Dr Lawrence Siriboe, Director of National Cardiothoracic Centre at the Korle- Bu Teaching Hospital, said the World Heart Day, which was established in 2000, was aimed at preventing heart diseases.
He said there was the need for everybody to create a heart-healthy environment at workplaces, homes and schools.
'At home, stock it with healthy food options by limiting prepackaged foods that are often high in sugar, salt and fat, ban smoking from your home, and be active by organising outdoor activities such as cycling or hiking.
'Visit a healthcare professional who can measure your blood pressure, cholesterol and glucose levels, weight and body mass index for an advice on your health,' he said.
Dr Siriboe said there should also be increasing quality of physical education in schools and childcare facilities, as well as creating and maintaining safe neighborhoods for physical activity such as good street lighting and connected sidewalks or playgrounds.
He said workers should demand a smoking ban at their various premises and encourage their employers to provide help to colleagues who wanted to quit smoking.
Dr Siriboe called on government to regulate fast-food advertising on radio and television, enact legislation to tax unhealthy foods and support locally produced fruits and vegetables.
He said government should enforce regulations for tobacco control and ban its marketing and advertising.
He called for cost-effective treatment of cardiovascular diseases to help modify risk factors in high-risk individuals.
'On World Heart Day, we are urging global and national policy makers to provide more opportunities for people to make heart-healthy choices,' he said.
After the walk, which was supported by the Vodafone Foundation, a free medical screening was carried out to test the sugar and cholestrol levels of the participants.
GNA