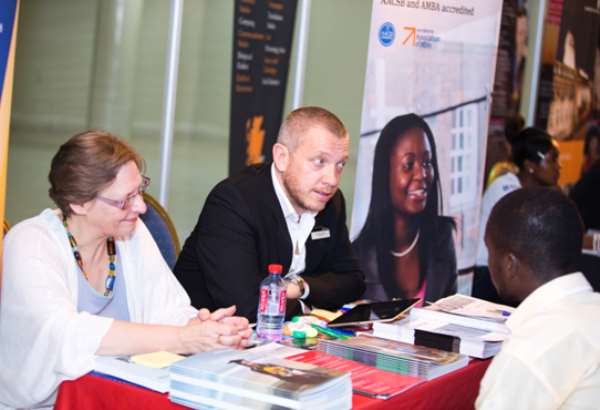 The British Council Ghana will be hosting over thirty institutions at one of the biggest most exciting educational events of the year, the "Education UK Ghana Exhibition 2014". The venue for these events are the Golden Tulip Hotel in Kumasi on the 27th October 2014 and the La Palm Royal Beach Hotel, Accra on the 30th and 31st October 2014.
The theme for this year's exhibition is "Where Inspiration Begins". The exhibition will provide a platform where UK universities and colleges can showcase the excellence of UK education and the range of study and training opportunities available for Ghanaian students, employers and employees.
The universities will interact with students, parents, training managers, employers, employees and the general public. Visitors to the exhibitions will receive information on how study and training in the UK can help them be the best they can be, by providing them with world-class qualifications for a competitive advantage in their career; with improved earnings.
According to the International Higher Education manager for British Council, Rhoda Enchil, "The British Council Ghana remains committed to promoting quality UK education and opportunities for studying in the UK. Over the last few years, our work has contributed to the growth of Ghanaian students in the UK and we will continue to work hard to secure long-term sustainability through management of Education UK and UK Alumni Programmes in Ghana".
Education UK, Innovative, Individual, Inspirational!
For more information please contact Rhoda Enchil, Project Delivery Manager, British Council, Accra, tel. 233 302610090, [email protected] or Benjamin Offor, corporate affairs Assistant [email protected]
About British Council
1. The Education UK Ghana exhibition is a British Council initiative primarily targeted at students and young professionals seeking study and training opportunities abroad.
2. The British Council creates international opportunities for the people of the UK and other countries and builds trust between them worldwide.
3. We are a Royal Charter charity, established as the UK's international organisation for educational opportunities and cultural relations.
4. Our 7,000 staff in over 100 countries work with thousands of professionals and policy makers and millions of young people every year through English, arts, education and society programmes.
5. A quarter of our funding comes from a UK government grant and we earn the remainder from services which customers pay for, education and development contracts we bid for, and from partnerships. For more information, please visit: www.britishcouncil.org. You can also keep in touch with the British Council through twitter.com/britishcouncil and blog.britishcouncil.org/
6. Working effectively with diversity is an essential part of our work. Our Equal Opportunity Policy commits us to ensuring that there is no unjustified discrimination against any of our stakeholders. For more information on our Equal Opportunity Policy, please visit: http://www.britishcouncil.org/home-diversity-managingeo-internally.htm
LIST OF UNIVERSITIES
1. University of Warwick
2. University of Dundee
3. University of Portsmouth
4. The University of Northampton
5. Robert Gordon University
6. Teesside University
7. Heriot-Watt University
8. London Metropolitan University
9. The University of Nottingham
10. University College London
11. Keele University
12. University of East London
13. University of Essex
14. University of Kent
15. University of Birmingham
16. Middlesex University
17. Northumbria University
18. University of Leeds
19. Manchester Metropolitan University
20. Staffordshire University
21. De Montfort University
22. Coventry University
23. University of the West of Scotland
24. University of Surrey
25. University of the West of England
26. Sheffield Hallam University
27. Lancaster University Ghana
28. The University of Law
29. University of Salford
30. Millfield English Language Holiday Courses
31. University of Aberdeen
32. Newcastle University
33. Edinburgh Napier University