NDC lawyer backs petition to remove CHRAJ Commissioner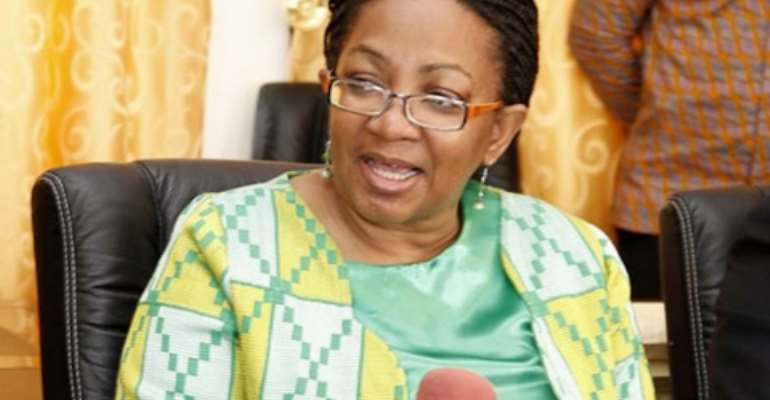 Legal practitioner and known member of the governing National Democratic Congress, Mr. Chris Ackumey, has supported calls for the removal of CHRAJ Commissioner, Lauretta Vivian Lamptey.
There is a groundswell of pressure on the Commissioner for the Commission on Human Rights and Administrative Justice (CHRAJ) to be removed from office after expenditure considered excessive and extravagant.
Ms. Lamptey paid close to $5,000 monthly rent on her plush AU Village apartment for 33 months while over $180,000 was being spent to renovate her official bungalow.
Media reports of the expenditure attracted public opprobrium for the human rights and administrative justice Commissioner.
Member of Parliament (MP) for Nsawam Adoagyiri has petitioned President John Dramani Mahama to remove Ms Lamptey from office.
He said as head of an institution mandated to "to investigate complaints of violations of fundamental rights and freedoms, injustice, corruption, abuse of power…" amongst others, Ms Lamptey cannot continue to be in office when there are such allegations of wanton abuse of office against her.
Mr. Dompreh said his action was in accordance with the 1992 Constitution which lays down elaborate procedures in removing the CHRAJ Commissioner.
The position of Commissioner being equated to a Court of Appeal Judge, the procedures as they pertain to a Court of Appeal Judge is to be followed in removing the CHRAJ Commissioner.
Article 146 (3) of the constitution states that "If the President receives a petition for the removal of Justice of a Superior Court other than the Chief Justice or for the removal of the Chairman of a Regional Tribunal, he shall refer the petition to the Chief Justice, who shall determine whether there is a prima facie case."
The MP said he was doing his constitutional duty in petitioning the President in respect of Ms Lamptey.
He was optimistic that the president would find merit in the petition and, therefore, forward it to the Chief Justice for consideration.
Mr. Chris Ackumey said he was convinced that the petition for the removal of Ms Lamptey is proper and necessary.
He said there is sufficient grounds for the petition, quoting Article 146 (1) to back his argument. The section said "A Justice of the Superior Court or a Chairman of the Regional Tribunal shall not be removed from office except for stated misbehaviour or incompetence or on ground of inability to perform the functions of his office arising from infirmity of body or mind."
In his view, Ms Lamptey's conduct fell below the standard required of Commissioner of CHRAJ which is high moral character and proven integrity.
"Clearly this is misbehavior, financial misbehavior," which is below the standard expected of a person of "high moral character and proven integrity," Mr Ackumey said.
Earlier Communications Minister Dr Edward Omane Boamah told Joy FM government will sanctions if audit probe shows that there was malfeasance on the part of the Commissioner.
He assured the government is determined to ensure profligacy and abuse of rules is curtailed.
It appears the noose is tightening around the neck of Ms Vivian Lamptey.