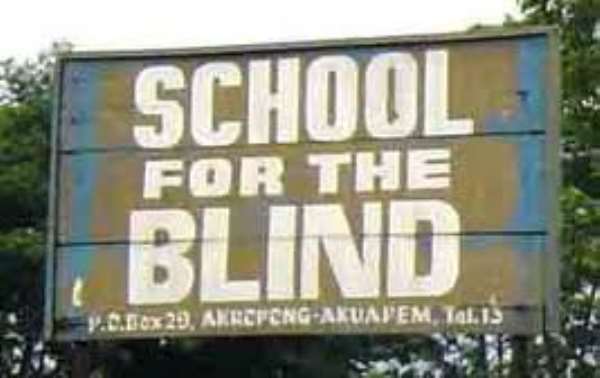 Akropong School for the Blind
Akropong-Akuapem (E/R), Sept. 21, GNA - Mr Atsu Homadzi, Assistant Headmaster of Akropong School for the Blind, has appealed to the Education Ministry to ensure that the school fencing project is completed to end the spate of robbery at the premises.
He said from October last year and September this year, thieves had broken into the school on four occasions.
Mr Homadzi said, the last time they made away with wires connecting the information, communication and technology (ICT), centre of the school and the corn mill to the main electricity lines.
He made the appeal when the members of the Bethel Family Chapel of the Assemblies of God , Community 22 Annex, Tema presented ICT equipment and food items valued at GH₵ 7,000 to the school as part of activities of the celebration of the family month of the church.
The ICT equipment include 10 pieces of UPS, 10 pieces of headphones, CD rom and extension boards.
Reverend Andrews Nelson Awintia,  in-charge of the church  said the donation was meant to augment the support of government to the special schools.
Ms Mahela Narh,  Headmistress of the school, said the academic facility, which started 70 years ago with four students now has 400 students.
 
   
GNA