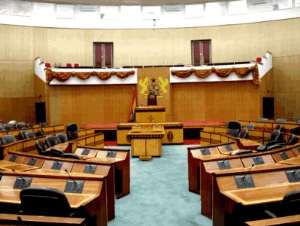 Accra June 15, GNA - Parliament on Tuesday sat for only 17 minutes and rose after the laying of two papers.
The early adjournment was to enable members to attend committee meetings. Although the Business Statement for this week had lined up several questions to be answered by Ministers of State, the Order Paper for today was light.
When the GNA contacted Mr Osei-Kyei Mensah Bonsu, the Majority Chief Whip, to find out why no questions had been slated on the Order Paper considering that there were over hundred questions to be answered by some Ministers, he said there should be an arrangement to have a Minster on standby to answer questions in the event that a particular Minister slated to appear before the House failed to do so.
He said the Table Office should also work hand in hand with the Majority Leader, who is also the Chairman of the Business Committee, to ensure that any Minster lined up to answer questions in Parliament was made aware of such a an event to enable him or her to turn up as scheduled.
Last week, the Majority Chief Whip had reminded the House that there was a lot of work to be done during this session. He said 104 questions had been slated for Ministers, who would be appearing before the House and, therefore, urged that more work should be done in every given week since Parliament was likely to sit for only six weeks during this session.
Mr Ken Tachie, Clerk to Parliament also told the GNA that it was normal to skip some items on the weekly business statement, scheduled for particular days especially when problems or something more pressing came up.
He said though the Minister of Health was scheduled to answer two questions on Tuesday, information got to the Table Office that the Minister was out of town so his questions were not put on the Order Paper.
Mr Kwabena Adusah Okerchire, NPP - Nkawkaw, also told the GNA: "The Leadership of the House knows that in times such as these, when election is drawing near, MPs and Ministers alike, usually do not come to Parliament because they have to make their presence felt in their constituencies more."
He said winning one's seat for the next Parliament, was more paramount now, adding that one could not afford to lose guard, else the aspiring MPs, who had returned from abroad with foreign currency would capture the loyalty of the constituents while the sitting MPs stayed in Accra to attend Parliamentary sittings.
Earlier when Public Business commenced for the day the Chairman of the Committee on Roads and Transport laid the report on the Road Traffic (Amendment) Bill and on behalf of the Minister of Finance and Economic Planning a loan agreement between Ghana and the International Development Association (IDA) for an amount of SDR 86,200,000 (equivalent 125.00 million dollars) was also laid.
The agreement has a credit facility of 58,600,000 SDR and a grant of 27,600,000 SDR is to be utilised for the second Poverty Reduction Support Financing. 15 June 04