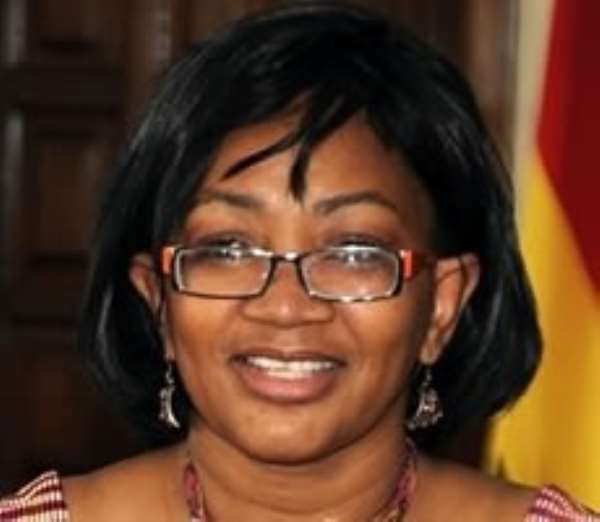 The Ghana Integrity Initiative has advocated for an independent administrator to embark on all renovation works on government bungalows and official residences.
This follows what has been described as wasteful expenditure after the Commissioner of the Commission of Human Rights and Administrative Justice (CHRAJ), Lauretta Vivian Lamptey, allegedly spent over $148,000 on a rented apartment and hotel accommodation.
The Commission of Human Rights and Administrative Justice (CHRAJ) was established in 1993 under the 1992 Constitution of Ghana by Act 456. It is the national institution for the protection and promotion of fundamental rights and freedoms and administrative justice in Ghana.
Among other things, the Commission is supposed to:
• Investigate complaints of maladministration, abuse of power and unfair treatment by public officials;
• Investigate complaints about actions of public institutions, including Ministries, Departments, Agencies [MDAs], where such actions and decisions occasion injustice, unfairness or hardship;
• Investigate complaints of unequal access to recruitment into the public services [MDAs, Police Service, Prisons Service, Armed Forces, etc];
• Take appropriate action to remedy, correct or reverse any action or decision that can be described as maladministration, abuse of office, or unfair treatment, or which undermines sound public administration;
• Educate the public to demand and hold public officials accountable in public administration.
But staff of the severely cash strapped state institution say as a native of Accra, Ms. Lamptey could have gotten a less expensive place to live in herself while her 10-year old official residence located on the Patrice Lumumba road, is being renovated.
Ms. Lamptey, who is currently living in a hotel with her children after checking out of the AU Village property, has subsequently parried the claims that she has been extravagant and has proffered some explanations saying, her official residence was inhabitable and was already being renovated when she assumed office in 2011.
She insisted she does not own a property anywhere in the country, adding it was government's responsibility to provide accommodation for her.
However, the Executive Director of the GII, Vitus Azuazim Azeem believes government should not leave the decision to renovate bungalows to its prospective occupants in future.
Speaking with Live News' Ekow Annan, Mr Azeem added that the independent body will help save the state from wanton dissipation of state funds as the practice is widespread across government agencies.
"That administrator position set up under the Presidential Transition Act should be resourced to take over this responsibility, when there's a handing over process that administrator should be the one to determine the type of renovation to be done" he said.
Mr Azeem continued by saying that CHRAJ is not the only state institution engaged in such acts.
"It is not only CHRAJ. It is happening everywhere. Ministers, District Chief Executives are also do the same thing…You remember the former Speaker of Parliament did the same thing this is just not good. It's a waste of state resources."
Meanwhile Parliament has hinted of dragging the embattled Commissioner before the Special Budget Committee, after snubbing the committee for the past two years.
According to the Member of Parliament for Nsawam Adoagyiri, himself a member of the committee, she has consistently turned down invitations by the Committee to appear before it to answer allegations of corruption against her.
The MP who is leading the probe charge, said beyond the latest allegations, there is the need to "hit her hard" for allegations of mismanagement.
"There are very key personalities at the offices of CHRAJ who have mentioned to us that what she is doing to the committee is an indication of the kind of attitude that she is showing to them at CHRAJ", Mr Dompreh revealed.
He said Parliament must, when it returns from recess, immediately call an emergency meeting on the matter.
Ms Lauretta Lamptey is also alleged to have been absent from office since April this year, while vehicles donated by development partners to facilitate the Commission's work in other parts of the country are gathering dust at its head office in Accra.
Ekow Annan/Live FM/[email protected]/twitter: ekowskare